From our previous experiences of vegan options, we didn't have high hopes to find a good place in the Bay of Islands. But after consulting the HappyCow! app we found a highly recommended vegan restaurant, the Nourished Eatery, in Tauranga.
Location
For us, the location in Tauranga was excellent because we left the Bay of Plenty and were on our way up towards Auckland. From the highway, it is just a quick detour and it allows you to have a glimpse of the cute town of Tauranga. In case you are on the same route, definitely check out this place, it is worth it.
Breakfast
In case you are looking for a place to enjoy a nice vegan breakfast the Nourished Eatery won't disappoint you. They have several baked goods on display and offer also various breakfast bowls, plant-based eggs or a full breakfast with sausages and hash browns. For the sweet tooth, there are cookies, banana bread, cakes and other treats.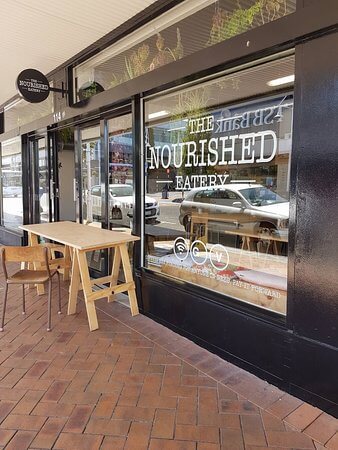 Brunch / Lunch
We had our eyes on the two different burgers that were on the menu. In the end, we had a look at the options that were on display and decided to try a vegan pie and a sausage roll and a muffin for dessert. We were very happy with our choice, the pie and roll were super tasty. The muffin with the creamy topping was such a delicious treat that we still remember it since it is something you don't get very often when living a plant-based lifestyle.
Desert
As mentioned above, for dessert you can choose between various cakes and baked goods. For us, one highlight was the vegan ice cream, which sure was expensive but they also had different flavors to choose from. We tried the matcha ice cream and it was delicious.