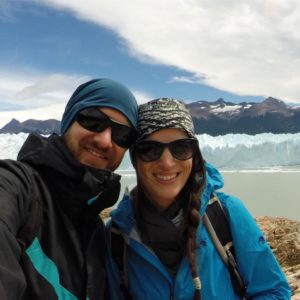 We're Ale and Chris! A Canadian-Chilean and Austrian-German couple who met in 2008 in Australia. After several years of long distance relationship between Amsterdam and Munich and living together in Munich, we've settled in Santiago de Chile for the last 3+ years. Having a big travel bug we've spent some time now saving money and focusing on short trips, mostly in Chile. We are in our early 30s now so last year we were thinking about the same thing most couples at our age start considering, which is to start a family. However, we soon decided that before beginning this part of our lives we want one big adventure, so we decided to quit our jobs and take a year off to travel. Luckily Chris is working on Online Marketing and can do some freelance work on the road and maintain our blog whilst Ale is focusing on photography and managing our social profiles.
Chris began diving in Australia in 2008 and was straight away fascinated by the marine life, especially sharks. From this passion for these beautiful creatures, grew his awareness of the huge decrease in the shark population of the world and he started following who are now his biggest inspirations in marine conservation: Rob Stewart from team Sharkwater and Paul Watson from Sea Shepherd.
For some years now, Ale has been making small changes in our lives to reduce waste and carbon footprint. She realized that if she made these changes, she could explain the importance of these to her friends and family, and hopefully, inspire them to apply these changes to their daily lives as well. She also enjoys photographing our world, and admiring the beauty in every corner which motivates her to take care of our planet so future generations can enjoy what we have enjoyed.
Together, we don't just want to travel the world and share our experiences, we also want to find inspiring people and projects that deal with sustainability and animal welfare. These we want to share with you via short videos and interviews on our website to increase the popularity of these topics, broaden the awareness of these issues and spread the word on the projects we find.
We are always happy to receive your input so feel free to contact us whenever you want at  projects@ecobackpacking.net
Thanks and we hope you enjoy!
Ale and Chris