Kuala Lumpur was our base between the mainland of Southeast Asia and the islands of Borneo and the Philippines. We decided to give ourselves a treat here after staying in low budget hostels for one month. We booked a room for three nights in the Regalia, a popular place for exchange students famous for its infinity pool with view of the skyline.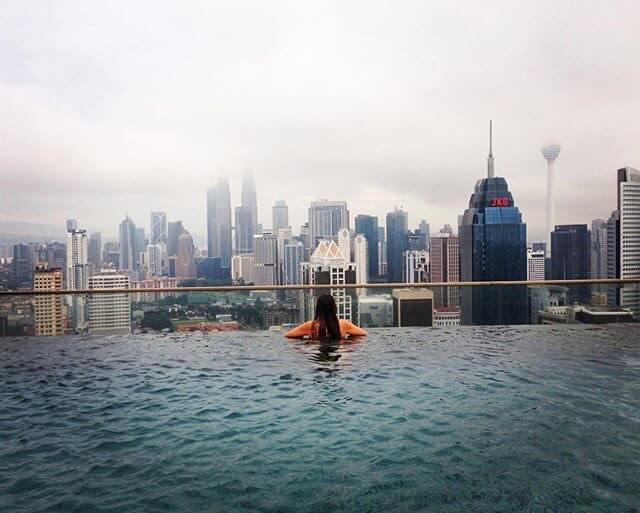 The pool itself with the view was amazing. However, the complex is so massive that the area is always crowded and doesn't have enough sunbeds so it is not the ideal place to relax. We just mainly went there to take our pictures and then relaxed at the other pool. If you are interested, check out our review of the Regalia.
After being in more rural areas for some time it was a bit of a shock but a refreshing change to be in a metropolis. Especially because Kuala Lumpur is very clean, has an amazing subway system and the people are extremely friendly.
After checking in and enjoying the pool we finally had our first home cooked meal since Australia. We planned to make a vegan pizza but the apartment had no oven so we tried a microwave / stove combination. It was not the best pizza ever but we still enjoyed every last bit of it (except where we literally couldn't bite through the crust). In the evening we just took some pictures of the famous Petronas Towers but we would have to go back another day because the park with the best viewpoints was already closed.
The next day we wanted to get up early to get some sightseeing done. That did not happen, mainly because we had gotten up super early the two days before and needed to catch up with some sleep. After finally being in the city we walked around in about 30 degrees to visit the mosques and temples around Chinatown, Little India and the Merdeka Square. Before heading back to the hotel for some relaxing pooltime we had some yummy and very interesting street food at Masjid India.
Instead of heading back out in the evening we had home cooked Spaghetti with tomato sauce (fancy, right?) and enjoyed having a couch to ourselves.
On our last day in Kuala Lumpur we went back to the city to see the sights we couldn't visit on the first day.we spent the afternoon relaxing by the pool and planning the next weeks of traveling through Borneo and the Philippines.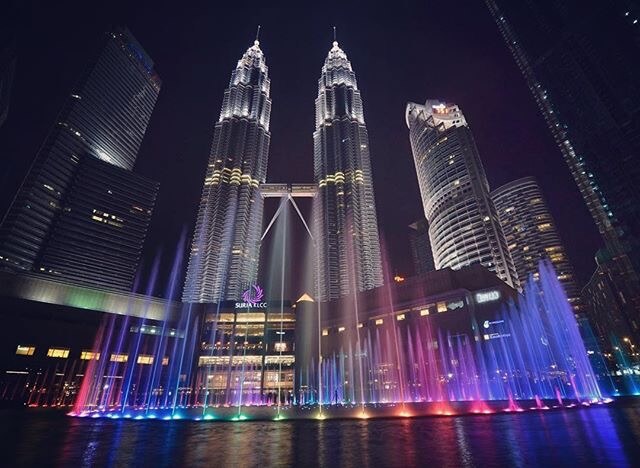 In the evening we head over to the Petronas Tower to catch the nightlife water and light show by the fountain in front of these towers. A perfect way to say goodbye to Kuala Lumpur.