After California our next destinations were the Paradisiac Islands of Hawaii. We arrived early in Honolulu but the next day at 6 am we had the next flight to Big Island. Even though there was not that much time to explore, we tried to make the most out of the day and took a bus to the Pearl Harbor Memorial Site. The park is really nice and a good place to pay respect to its history and the victims. There are a couple of extras you have to pay for, but we just had a stroll along the harbor and had a look at the torpedoes, submarines and other free displays.

After that we had to wait approximately 30 minutes to take the bus for 1.15 hours (buses don't have a schedule and are extremely slow!) to Waikiki: the most famous beach of the island, so it's obviously crowded but we still wanted to have a walk around. After waiting another half an hour for the bus (yes, we spent most of the day waiting for/or riding buses) we went back to the airport where we spent the night.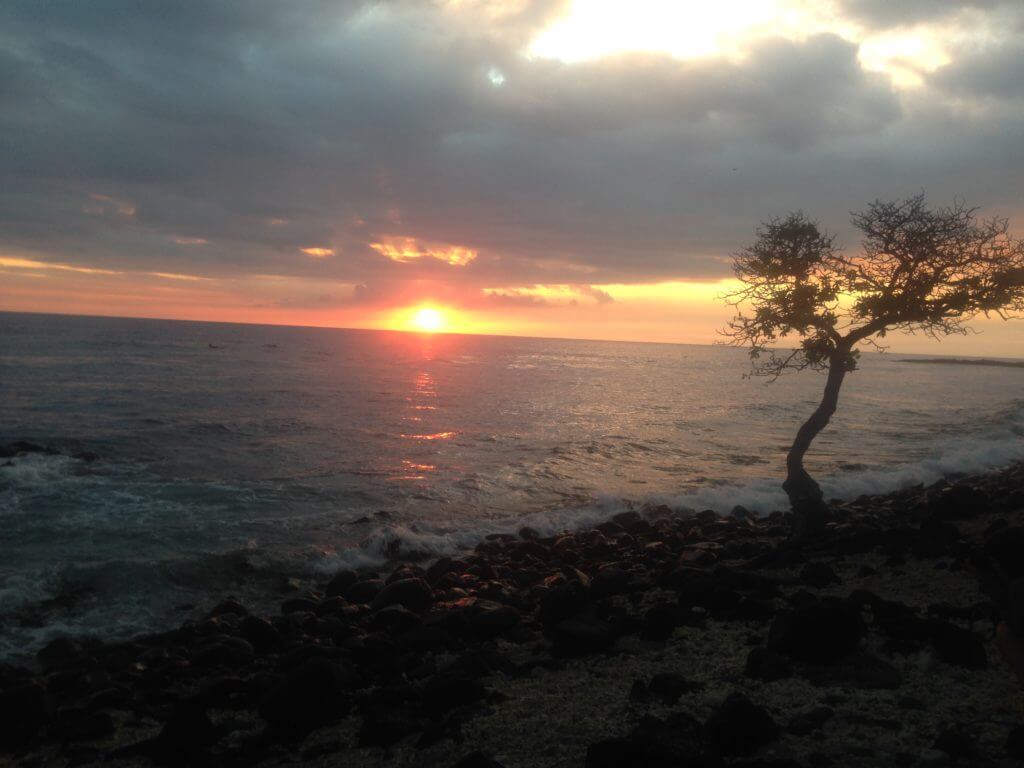 Kona Coast
We arrived in Kona, Big Island at 5am. Luckily our car rental company was already open and we also found out that Kmart opens at 6am so we could get our food for the next days right away and got our gas at Ace Hardware store. Thanks to Ale's Happy Cow! app we also found a vegan breakfast place, the Evolution Bakery where we enjoyed our amazing first meal on the island.
We had found a perfect campsite really close to town but unfortunately it would open the next day as it was a public beach park.
So we had to drive 1 hour down to make our camp at Miloli'i Beach Park. In case you think about camping there, don't do it. To get to the park you drive through a -not very scenic- area with broken cars next to the street. In the evening locals come down to the park to "hang out" and play music. Luckily, at least during the night it was quiet so we still got a good sleep. The best part of this trip South was our stop at the 2 Step beach. One of the best snorkel spots we've found so far in Hawaii. There is an abundance of corals and fish. We were even lucky enough to see a sea turtle swim around and another one just chilling on the little tide pools. Our beach neighbors saw a shark sleeping under a rock, but our luck left us there.
After leaving Miloli'i we could make our way to the ocean campsite we were looking forward to. On the way, we stopped for a morning snorkel at Kahalu'u Beach Park, one of the more popular spots in Kona. Even though it was early, there was already a crowd in the water. However, we were rewarded again by spotting a sea turtle while he enjoyedhis breakfast. We also saw some corals and fishes, but the 2 Step beach was way better.
Our home for the next three days, the Kohanaiki Beach Park surpassed all our expectations. We found the perfect site right by the ocean, in the shade with space for our hammock and with a view of surfers catching waves all day, truly paradise. We enjoyed our new home for some hours with a good breakfast and some chilling in the hammock. In the afternoon we had another short trip planned to visit Makalawena Beach. To get there we had to take a gravel road through a volcanic landscape until we arrived at this little oasis. It is a quiet little beach, great for playing in the ocean and relaxing. There is also a house from the late 1800s that is currently waiting for restoration. We did the little walk to the house and passed it to a more quieter area with palm trees. Here, a little surprise was waiting for us, we found a sea turtle basking in the sun. That and the following sunset were the highlights of this eventful day.

The next morning we took the car up to the Northern part of the island. After a 90 minute drive we arrived at the Pololu Valley Lookout and then followed the short trail that leads down to the beach. This trip North is nice though we would say not a complete must, especially if you go to Waipi'o Valley as well. On the way back to the campsite we thought we would have another beach stop at Hapuna Beach Park. It was highly recommended in the Lonely Planet but didn't strike us as a must see. So we just headed back to our campsite to enjoy the afternoon and another beautiful sunset.
Hilo Coast and the Volcano National Park
After three days at this campsite it was time to leave and go to the West side of the island. Our first stop was the Waipi'o Valley where we had a campsite booked in Waimanu campground. However, we didn't know that to get to the campsite it would take us 6 to 8 hours hiking. Since we did not have the time for this we walked down the steep road, across the Waipi'o Beach and did 30 minutes of the Waimanu Trail. From here we had a great view of the valley and after hiking another trail for 45 minutes through a tropical forest we could cool off at some natural pools. After walking the 45 minutes back and another hour steep uphill to get to the car we were physically exhausted and happy to arrive at the next campsite. Here we met a lovely couple from Ukraine and Poland. Tomasz and Ksenya gave us a lot of tips what to do the next days and were also so nice to offer us a ride with their 4×4 to a sunset look out.
The next day we had high expectations visiting the Volcano National Park. However, during the day we did not get very excited. Sure, seeing a lava tunnel, a crater from above and a lot of volcanic landscapes sounds great. But we think that because you can basically drive the whole park you loose a bit the connection with the nature and the actual experience of being in a volcanic landscape. All this was about to change when we drove on to Kalapana. From there you can either walk 1.5 to 2 hours or rent a bike for 10 USD and cycle 30 minutes to a spot where a lava flow hits the ocean. We arrived shortly before sunset and it was a truly amazing experience seeing these two nature forces merging in a giant red cloud. Back at the Volcano National Park where we had our tent ready we made a quick stop at the Jagger Museum from where you can see a crater with active lava – another incredible sighting. Additionally, you have an amazing view of the Milky Way and countless stars. With this breathtaking experience we were dead tired and off to bed.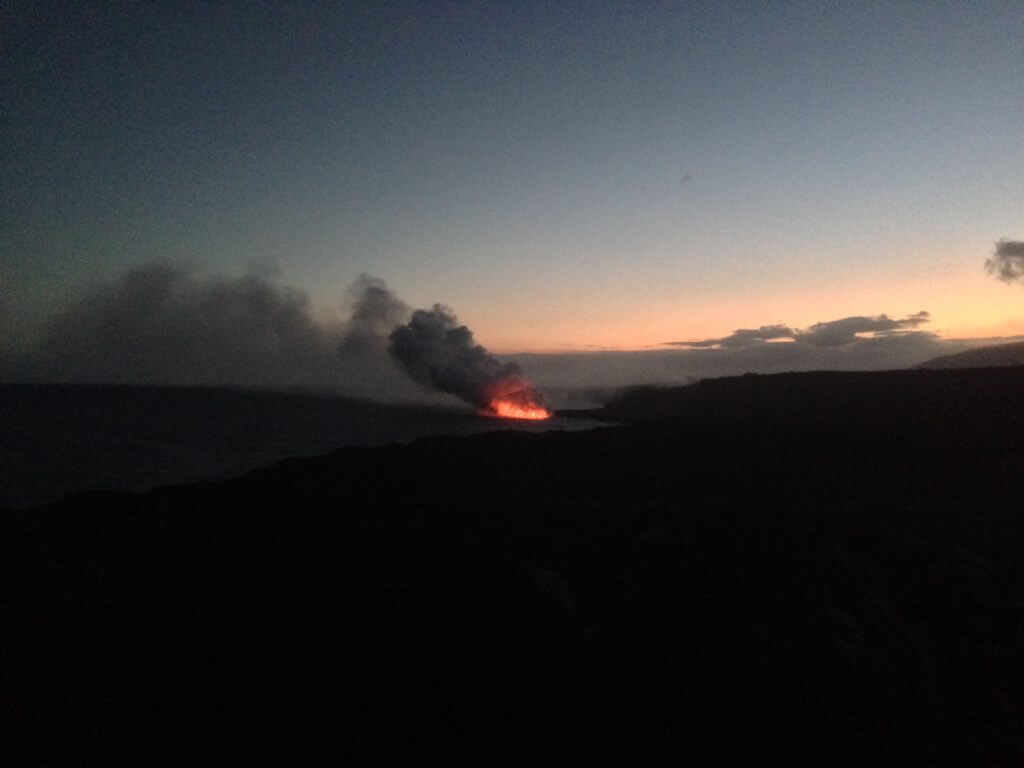 The next day started early because we wanted to hike the Kilauea Iki trail. We definitely made the right decision. We ysaw only five other people doing this amazing jungle/crater hike. After that we met with Tomasz and Ksenya in the town of Hilo. If you are here, check out the Abundant Life store. A supermarket that offers organic, vegetarian and vegan products. Also, it has a section where you can buy products and store them in your own container to avoid plastic garbage. Additionally, you can get a healthy lunch. With our new friends we made our way in a 4×4 up the Mauna Kea to watch the sunset. Arriving at the top you have an amazing view over the numerous observatories, the other mountains, a sea of clouds and sometimes the ocean. But nothing compares to the colors of the sky and clouds when the sun sets. You have to see it with your own eyes to understand why it is such a popular tourist spot. The only problem with the altitude and the late hour are the freezing temperatures. We left a lot of our warm clothes in a locker at the Honolulu airport so we were not really prepared for being outside at 0 degrees. During the sunset, we huddled up under a blanket and sleeping bag but once the darkness took over we were happy to go back into the car. After driving back to Hilo and returning the car we separated ways from our new travel friends and hope we will see them next year in Poland or somewhere else in Europe.
We planned to stay at another State campground by the coast around 40 minutes south of Hilo. However, arriving there in complete darkness we did not even find the area to pitch the tent. Since we also did not feel really comfortable we decided to leave the park in search for another accommodation. We were about to drive to Pahoa to look for a hostel when Ale remembered that there was another private campsite close. Arriving at that hour without reservation is really uncommon and we were super lucky that Mojo, the owner of the Hedonisia camp, was still awake and had one more spot for a tent available. These occasions really make you think that things happen for a reason. The next morning we woke up just to find one of the most amazing campsites we stayed at. Set in the Hawaiian jungle, the campsite consists of an open air toilet and shower (covered by a natural rock), compost and several different accommodation options. Mojo, being a long time feminist, also offers a jungle women program that empowers women and teaches them that they can do more than they think by themselves without relying on men. Check out our article about Mojo and his "Jungle Queen" and other programs. After enjoying a relaxing morning at the Hedonisia Eco-Community, we spend our last day in Big Island driving back to the Kona side. We cooked a yummy dinner and spent the last sunset on this island at the old airport beach park. Since we had an early flight to Maui the next morning we decided to save some money and sleep in the car at the airport.