One night on the West Coast of Big Island, Hawaii we were desperately looking for a place to stay for the night. Luckily we found the Hedonisia EcoFeminist Community and the owner Mojo was still awake to offer us a site to pitch our tents. Sometimes it just seems that some things are meant to be, because there is hardly a campsite that fits better to our lifestyle than Hedonisia.
Built on a former junkyard, remodeled to a sustainable community located in the lush rainforest near Puna. You have the choice to stay in a cozy studio cottage with ensuite kitchen and bathroom, a hostel style two-bed dorm or pitch your own tent. A big highlight are the open air toilet and shower!!
So what makes the Hedonisia so special apart being located in the lush tropical forest with its own crater trail?
They offer a a fair trade volunteer program for 1-8 weeks for a discount price. The participants can choose between farm and land activities or heart and mind work.

In the intern community manager program you learn to manage an eco tourist community based on social and feminist entrepreneurial principles. After your 3 week training you only work 2 days a week and can enjoy a holiday for the rest of the time.

Mojo, a long time feminist, is really focused in empowering women and showing them their full potential without having to rely on men. We were amazed hearing about his jungle queen program. The participants (it is not exclusively for women) sharpen or discover skills they did not know they posses and increase their self confidence by living in the Hawaiian Rain Forest.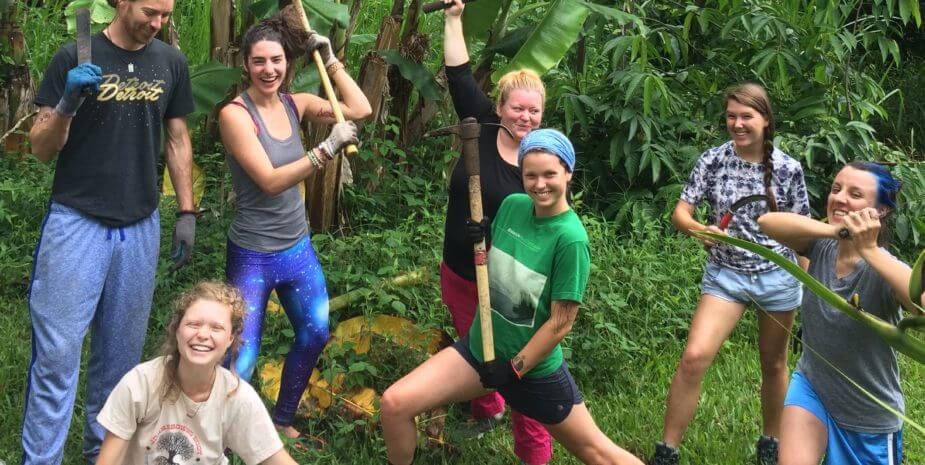 In case you are interested in the programs in more detail visit the website www.hedonisia.com .
Further chatting to Mojo he told us of another project that aims to help women that got pregnant from men taking advantage of them. In some countries, women, no matter if the pregnancy was their fault or not, have to fear for their public image or even their lives if they have a child before marriage. This happens in Mid Eastern countries but also in Catholic states in the US.
Hedonisia offers a treatment to save these women's lives. This natural abortion or natural miscarriage has helped thousands of women around the globe. Even though this topic is controversial worldwide, The program doesn't encourage people to abort, but gives them the option in case they want/need to and can't do it safely in a clinic for example. To access the information you pay 10 USD if you can afford it. If you pay you enable free information for 10 women who don't have the financial resources.
If you're curious you can find more information at https://naturalmiscarriage.org