The Bay of Plenty had been highly recommended to us so we were excited to see what the sunny coast had to offer and we were certainly not disappointed.
Papamoa and Mount Maunganui
Our first stop was in Papamoa, but not because we really wanted to – it was the only beach that had an affordable campsite. We couldn't believe how much the prices had risen in this area. We were used to paying 8 or max 13NZD per person, but here we were talking about 18 to 26NZD, not to mention that the first two we checked were all booked out. Luckily, we found one for 18NZD with sites still available. It felt quite luxurious to stay at a campsite with showers, a kitchen, and even a hot pool!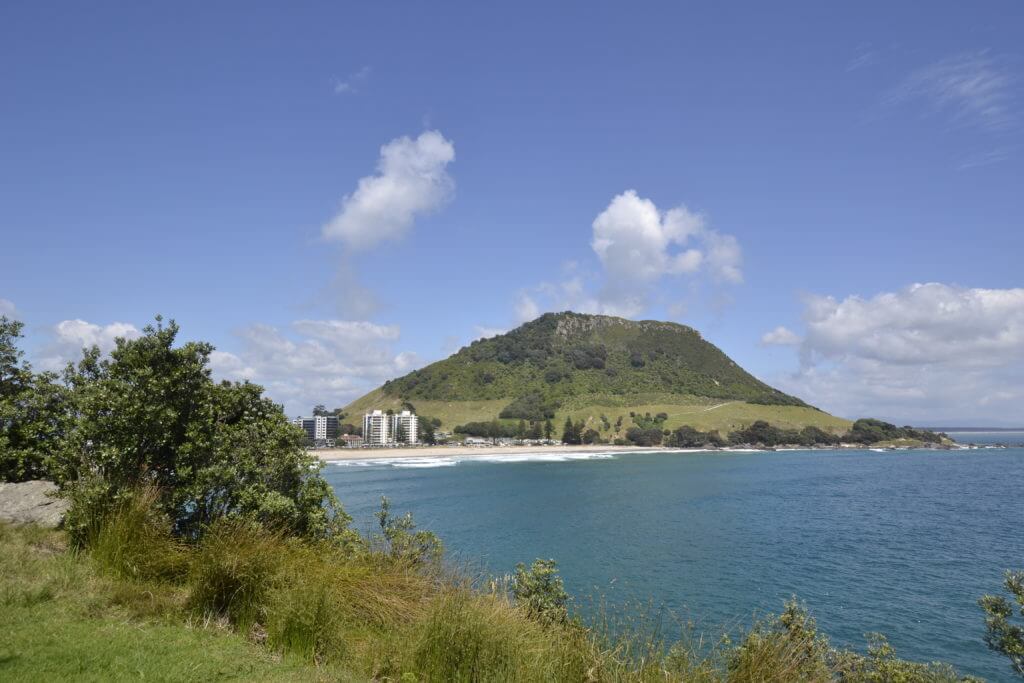 The next morning we left to visit Mount Maunganui where we read there was a trail to go up the path, so as soon as we arrived at the beach, we put on our trekking shoes and off we were on another, short hike, making this our 3rd day with some sort of hike in a row.
The trek was relatively easy; steep, but not very long and the views along the way were amazing, on one side you could see the Matakana Island, on the other the Mt. Maunganui beach. Once at the top, we took some pictures, got hydrated and went back down.
Back at the beach, we walked along a little peninsula that has some good spots to watch the surfers ride the waves.
After a little treat in a Nourished Bakery in Tauranga, we drove off to the Coromandel Peninsula.
The Coromandel Peninsula
Our first stop was Waihi beach where we had planned to do another trek, but it was getting late and we still had another 1.5 hours to our campsite for tonight so we had just had a quick look at the beautiful beach, admired the beach houses and drove on to Hahei beach.
Here we had booked a campsite, a very expensive one but we read this was a great spot for sunset and sunrise so staying here was perfect to do both.
On the right side of the beach (from our campsite), there was a walk to Te Pare Point, a narrow strip of land with stunning views of the Mercury Bay and offshore islands. We packed our tea and blanket and admired the colors over the horizon, which even included a rainbow.
The next morning was a very early one, as we wanted to watch the sunrise at Cathedral Cove which was an hour walk from our campsite. So at 4:15 am, we were off again with our tea, blanket, and headlamps to walk in the dark to this promising sunrise spot.
In the end, it was just a 45-minute walk, so we had plenty of time to arrange our camera setup and watch how the rock formations would slowly get more and more illuminated. We spent almost three hours here, we just couldn't get enough of this place, it was so unique and colorful.
However, we couldn't spend too much time here since we had a 5.5-hour drive to tackle today.
We walked back to our campsite and enjoyed a couple of hours lying on the beach before we took off on the long drive to the Bay of Islands.