Leaving Yosemite National Park behind we headed towards our final inland destination in California, Lake Tahoe. Because just chilling by the lake is not our thing we had a look at the trails around and found out the parts of the Pacific Crest Trail (PCT) is near Lake Tahoe. The PCT is a 2600 miles trail that leads from the Mexican Border all the way to the state of Washington. To complete this trail you need about 5 months and since we neither had the time nor the physical condition, we were really happy to at least cover 20 miles of it.

Day 1: Echo Lake to Lake Susie
The area where you walk is called the Desolation Wilderness and consists of a countless number of trails that lead deep into the backcountry. To be able to enter you have to get your permit from the California State Parks. There are no facilities at all in the area and only lakes and rivers to get water so make sure you pack purifying tablets. We left our car at Echo Lake about 20 miles from South Lake Tahoe where our hike began. Since we were a bit tight on time we decided to cut the distance a bit and take a boat to the other side of the lake. We were absolutely mesmerized by the beauty of the lake but we had no idea what lied ahead of us. The first part of the trail let us through a rocky forest area for two hours until we arrived at Lake Aloha which was set in a stunning scenery. The lake is surrounded by a forest and in the distance, you see snow covered mountains, even at the beginning of August. We took our sweet time here to chill a bit, have lunch and play in the water. In the distance we started to see the sky darken and heard thunder so we quickly got our stuff together to continue our way to our final destination for the day.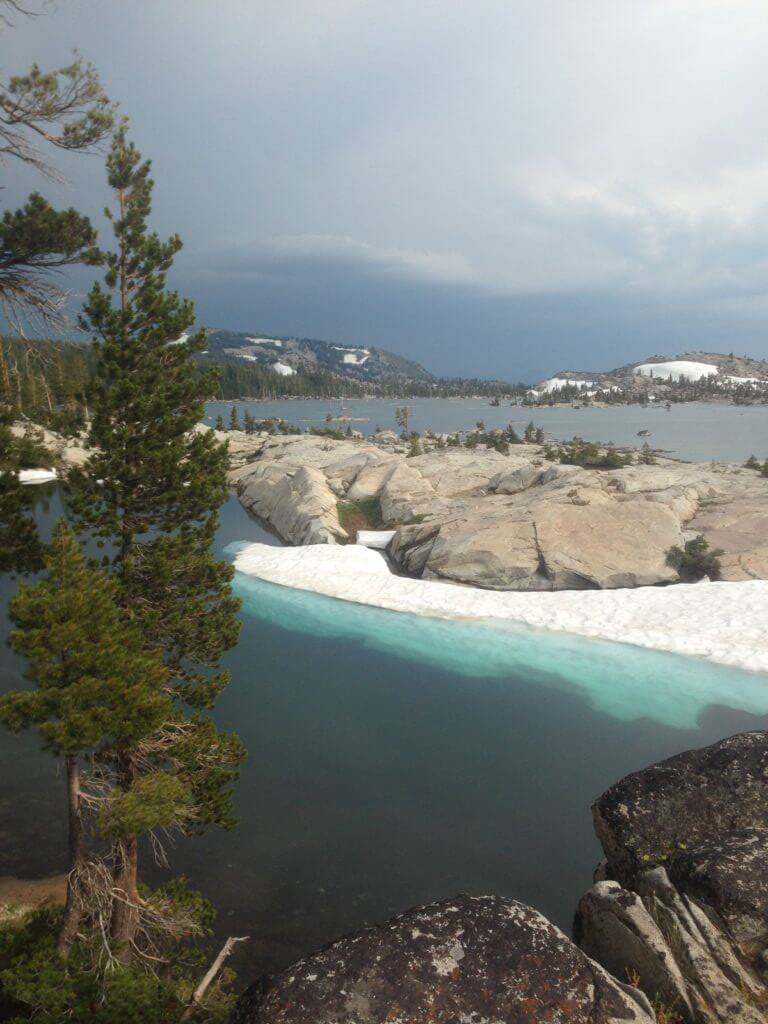 We were worried we would have to cook and set up the tents in the rain, but luckily as we kept going North, we quickly left the clouds behind us. The trail continued around Lake Aloha and then turns East, passing lakes after lakes, and the scenery and terrain continued to change after every 30 minutes; making our hike a bit slow since we couldn't stop taking pictures – a good problem to have. When we finally arrived there 5 hours after starting at Echo Lake there were some sites taken by the lake but we found a really nice spot after a short search just a bit higher on the hills which made for a breathtaking view from our tents and cooking area. To this day it was one of the most beautiful camping experiences. To add to this wilderness experience, we had to hang our food and toiletries 10 feet high from a tree to avoid the hungry black bears that wander in this area. To save some space and weight we all took freeze dried food so all we had to do was boil water and pour it directly into the bag, stir and wait 10 minutes. After enjoying this lovely dinner with the amazing view we all called it an early night to start our hike around 7 am the next day.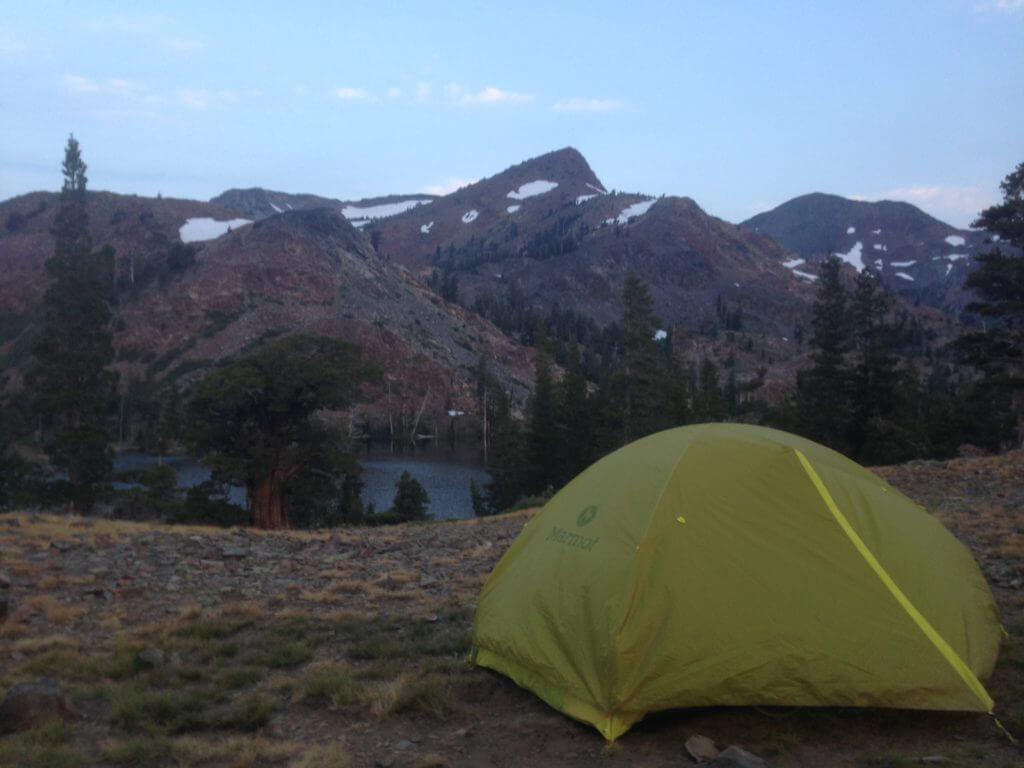 Day 2: Lake Susie to Lake Tahoe
After breakfast we began the hardest part of the 20 mile hike. The path lead us on a 1600 feet climb up Dicks Pass. But it is worth all the effort and you forget the hardship of walking up a mountain with your 15 kilo backpack with the amazing scenery that surrounds you. About ¾ of the way up we encountered a huge amount of snow that partly covered the trail so we had to make sure we wouldn't wander off the path. Shortly before the final climb up to the top of Dicks Pass we found one of the best photo stops, a snow covered lookout over the neighbouring mountains and Dicks Lake.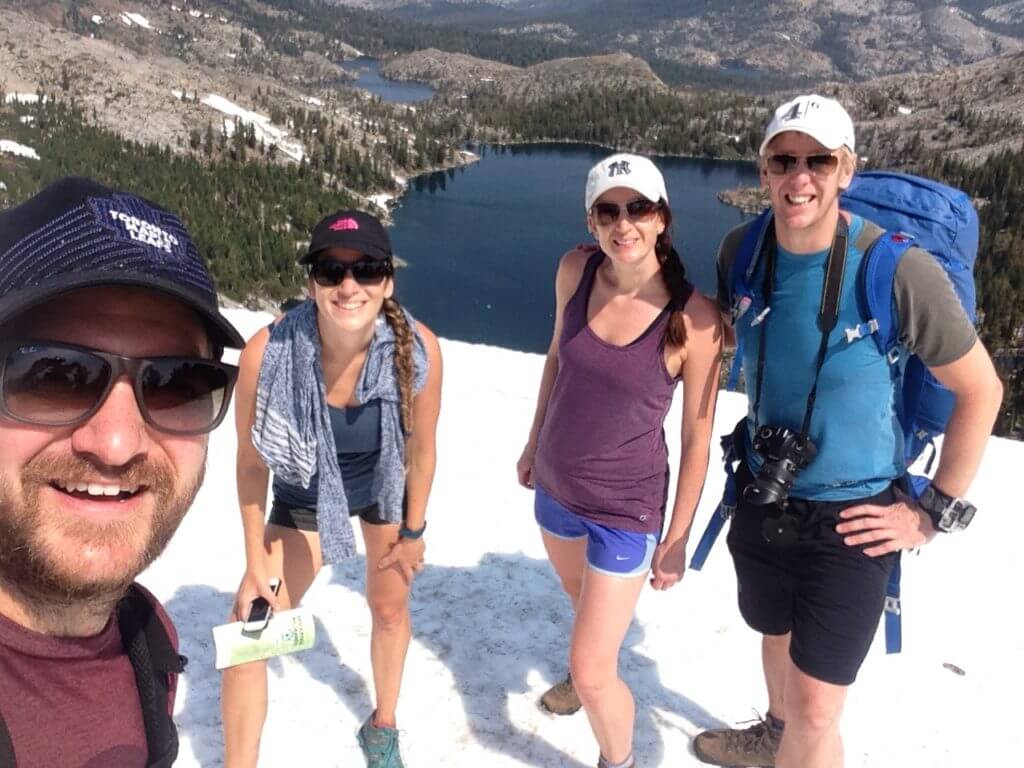 After the final climb to the peak the trail leads you downhill through a lush forest area with the lake always on your left. A couple of miles after Dicks Pass we left the PCT to make our way towards Lake Tahoe, following the signs to Bayview. The more we descended, the hotter it got so we decided to have a lunch break by a river. With refilled water bags we began the final stretch that lead us again through another beautiful forest with a view over different lakes almost the whole time. We were pretty happy when we arrived at Eagle Falls, our final destination. Not only were our shoulders very sore after hiking for 8 hours, but the trail also got more and more crowded with day visitors that hike up to Eagle Lake.
So now we arrived at the majestic Lake Tahoe but we still had the little problem that our car was at Echo Lake. Since our campsite was a short trolley ride from the end of our trail, Louise and James took the two big backpacks and a small one to the campsite while Ale and I tried to make our way to our car which was a 40 minute ride away. We got a ride pretty fast, but unfortunately only until South Lake Tahoe. After learning that there is no public transportation we tried hitchhiking for about 20 minutes but weren't very successful so our only choice was grabbing the wifi from a starbucks and get an uber which arrived 10 minutes later.
When we arrived back at the campsite in Emerald Bay, our awesome travel buddies had already pitched our tent and we could celebrate our accomplishment with some good dinner and a couple of cold beers.
The next day we could only enjoy a short, but fun dip in the lake since we had a 4 hour drive ahead of us to our final stop in California: San Francisco!
[AdSence-C]