One of the highlights of Palawan is the Underwater River of Puerto Princesa. In contrary to the name, this site is not located in Puerto Princesa but in Sabang. There are plenty of tours that get you there on a day trip but there are various reasons not to choose that option and instead make it on your own to Sabang and staying here for a couple of days.
Reasons for not doing a day tour
To get to the underwater cave you have to travel 1.5 hours in a cramped minivan from Puerto Princesa. Together with the 2.5-hour boat trip and the return transportation, you would spend 5.5 hours mostly in a tight space which makes this amazing experience less enjoyable.
Most importantly, the best time to visit is as early in the morning as possible. When you stay in Sabang you can walk down to the information office before 8 am and leave with one of the first boats and share the cave with only a handful of other boats. If you arrive from Puerto Princesa you will arrive earliest at 9.30 am and will have to get in line with a lot of tourists.
Also booking your experience individually will save you money. We paid 790 PHP plus 180 PHP for our spot on the boat. The cheapest tour we found was 1.400 PHP so we saved a lot of money.
Sabang
Sabang itself is worth staying at least one day. It has a really nice, long beach with plenty of palm trees to give you shade.
Even though it's a very touristy place, Sabang has a very relaxed vibe. The locals are super friendly and don't harass you at all.
If you want to relax, even more, get a massage from one of the many businesses along the beach. You can get the price down to 300 PHP and it's the cheapest you will find in all of Palawan.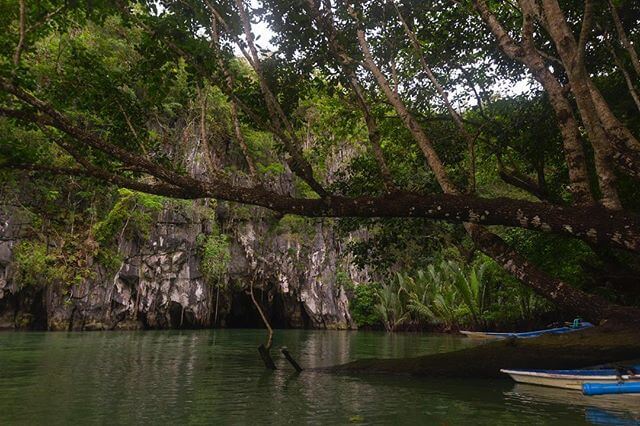 Where to stay
We stayed at Bambua which offers budget rooms and is a bit more remote about 1 km from the beach. We really liked our room and the garden and buildings were beautiful, however, the service was not great and the price of the meals was quite expensive.
If you are not that tight on a budget and are staying only for a night or two we recommend staying closer to the beach.
Where vegans can eat
A lot of places offer a buffet for about 5 USD but if you don't eat fish or meat it's not really worth it. The only place we found that had a variety of vegan options for us was Tara just next to the booth where you book your transportation.