After our Odyssey to Vietnam we finally made it to Hanoi. Arriving on a Saturday gave us right away the experience of the crazy city. We left the hostel and were right away in the busy streets trying to make our way between thousands of people, cars and scooters towards the bar area. Once we reached this area we rewarded ourselves with a typical Pho soup dinner and a 25 cent beer.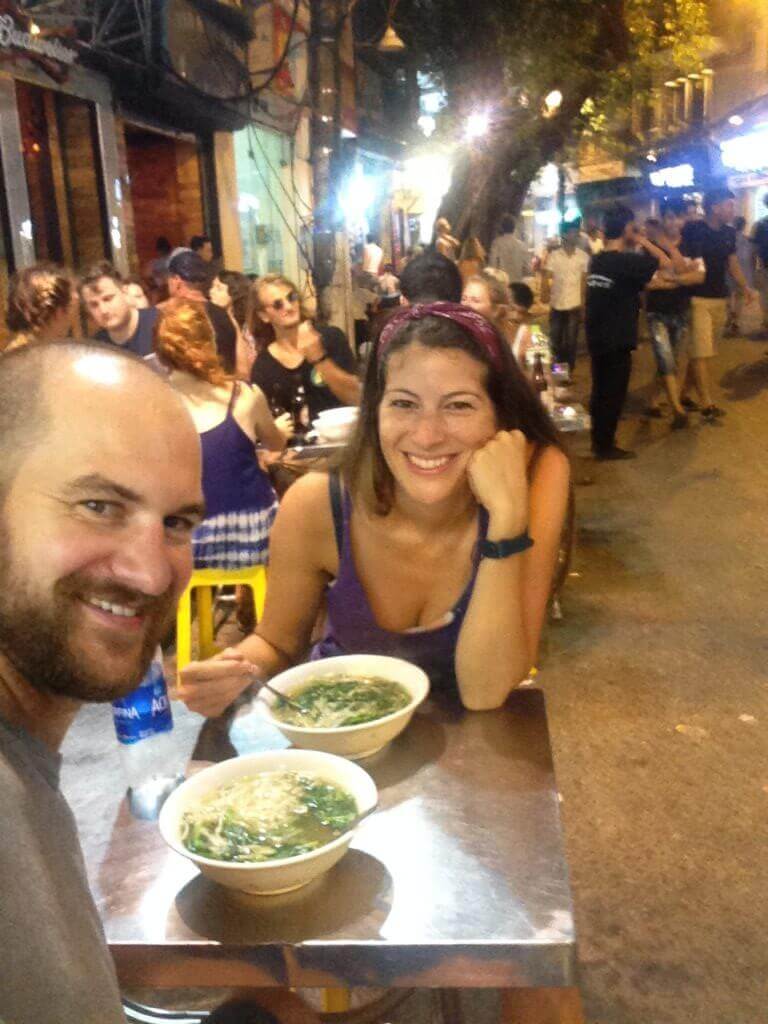 Cat Ba Island
The next day we got up early to see the city before hopping on a bus to Cat Ba Island. In Cat Ba, we chose a hotel based on pure excellent reviews on Tripadvisor but nobody mentioned the massive construction site next door. We were pretty bummed but the next day we had to get up early anyways so we thought about sorting it out then. The afternoon we used to walk to the island's main beaches. We were both really impressed by the first two because the whole beach was basically reserved by resorts. However, the boardwalk between the beaches offered really a nice view over the neighboring limestone islands. The last beach was our favorite, here only a small area was reserved by a resort, the rest was really quiet and we could chill for a bit.
The following day we had a day boat trip booked to see one of Vietnam's and actually one of SE Asia's highlights: Halong Bay. A lot of people go on a 2 day/1 night tour from Hanoi or Halong City but we found that option way more expensive than doing it from Cat Ba. We only paid 21 USD per person and were more than satisfied with the trip. Once the morning rain stopped, we got amazing views of the limestone islands and after lunch we went on a beautiful 2 hour kayak trip through various caves. Highlights were a cave full of bats and seeing a monkey from the kayak. Even though this tour is really hyped, we highly recommend going at least for one day.
The only thing that spoiled the trip for us was the amount of garbage in the water. Us travelers can decide to not be a part of this terrible trend and refuse plastic bags, bottles and straws. We always carry a shopping bag, reusable straws and purifying tablets with us.
After returning we were very happy that we could change to another, quieter hotel without any surcharge. We spent the evening with Monica and Dave whom we met on the boat trip. We can highly recommend having dinner at Yummy, offering plenty of vegan options and then grabbing 50 cent beers at the Oasis Bar.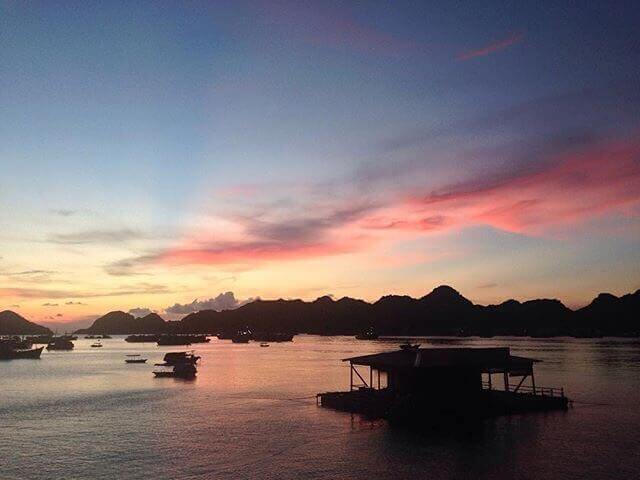 Unfortunately Ale caught a cold and we used the next day to rest and sort out our finances. A task not that enjoyable but necessary to be able to keep on traveling for a longer time.
Phong Nha
We reached our next destination, Phong Nha via another overnight bus experience. After arriving at 5am and sleeping a couple of hour in a massive dorm that was included in the bus tickets, we were happy to switch to a cleaner, nicer hotel. The Easy Tiger Hostel offers a free talk every day at 9 am where they offer information about the attractions in the area and how to enjoy them. In the end, we decided to rent a motorbike and visit the Paradise and the Dark Cave. After some days of spending very little it was tough to pay a lot for a one-day adventure but sometimes you just have to spend money to see things. And we cut the cost in half by driving ourselves compared to booking a tour.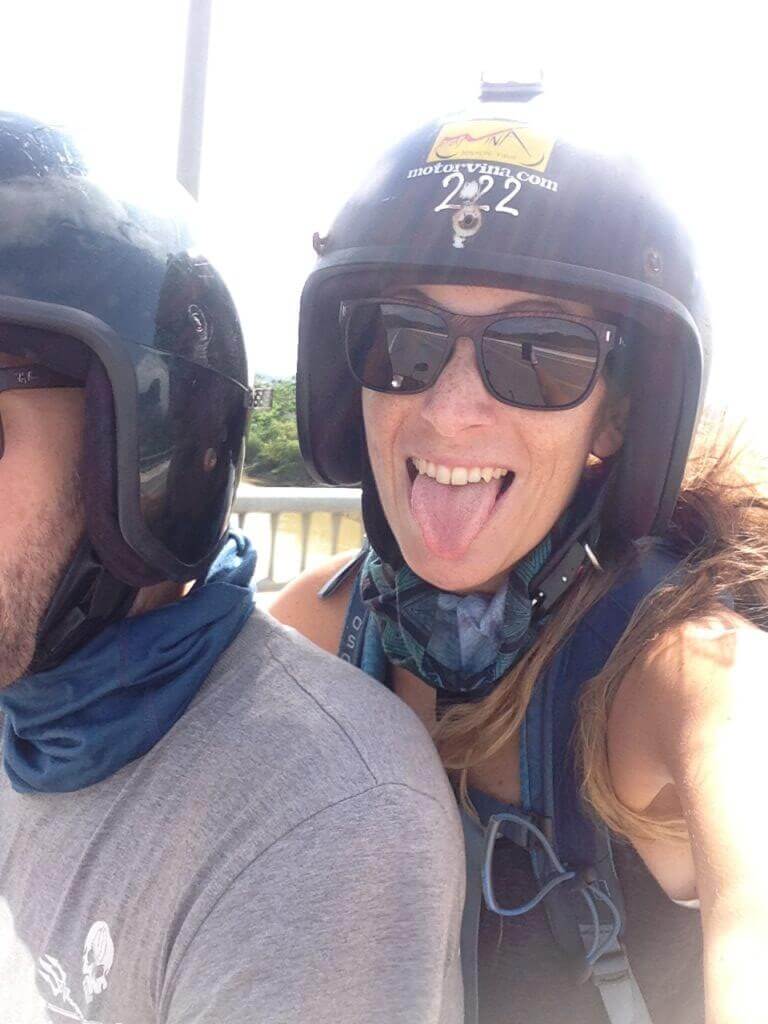 The next day, we started early with a motorbike rented from our hotel but after 1.5 km the bike felt very strange. We heard a bang and realized that our back tire popped and we had a flat. After pushing the bike to places where nobody showed interest to help us we drove slowly back to the hotel. Here we exchanged the bike and finally we were off to Paradise cave. We reached our first stop after an hour drive through a beautiful scenery of rice fields, little villages and limestone hills.
After a 20 minute walk from the parking toParadise Cave, we descended the wooden steps and straight away you have an amazing view of the cave. The path leads 1 km into the cave (in dry season the path is longer), passing little pools, rocks, stalactites and stalagmites. For us, it was the first experience of seeing a cave this big and beautiful and we were absolutely bedazzled.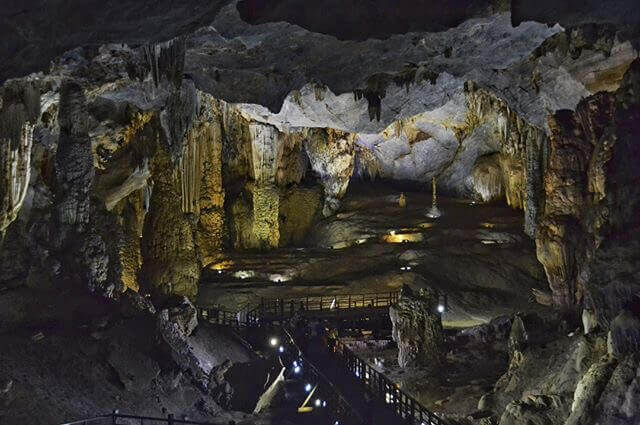 The next stop was only 5 kilometers away. In contrast to Paradise Cave, the Dark Cave is awesome for the fun activities and not the beauty. To start, there is a 400 meter zip line that transports you from the visitor center to the cave entrance. After a short swim through cold water it was time to put on the helmets and turn on the torches to start exploring the caves. After about a 100 meter walk along a path we reached the darkness and waded through water only guided by our own lights. At the end of this walk there's mud bath where you can give yourself a good scrub and have some muddy fun. Before heading back we had a go on a natural mudslide which unfortunately scraped and peeled some skin off Ale's back, leaving three massive wounds on her lower back. Tip: don't lift your legs on the slide!
At the exit of the cave we dropped off our helmets and kayaked back to the other side. After some fun zip lining into the river we took the scenic route back to Phang Nha.
The next morning we got up at 4 am to get a bus to our last stop in Vietnam, Hoi an. We booked a really new homestay here which was a bit of a problem because neither the moped drivers nor the restaurants around knew the hotel. Since the address on Booking.com was incorrect we walked around for 1.5 hours in 30C until we finally found the place. All the effort was worth it because the hotel was one of the best we've stayed in.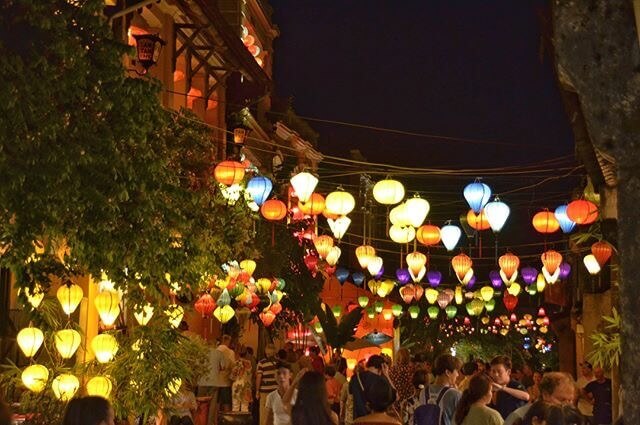 Hoi An was such a nice surprise at the end of our trip, especially at night we enjoyed walking around the streets illuminated by the traditional lamps. Just be aware that you get offered a boat ride, souvenirs or happy hour drinks every two minutes. Not only was Hoi An a perfect spot to leave Vietnam, we also finally had an exceptional food experience. Maybe our vegan diet was the problem but before Hoi An we had only been able to choose between vegetable rice or vegetable noodle. Sometimes, we got a veggie curry as a highlight.