Leaving Wellington behind we were very excited about our next destination, the Tongariro National Park, and its famous day hike. The distance was a too much to do it in one evening, so we had an overnight stop at the free Simpsons Domain Campsite.
Tongariro National Park
The next day we arrived quite early at the National Park and pitched our tent in the Mangahuia campground. From there we made our way past the Chateau Tongariro to do the Taranaki Falls Trail, a little warm-up for the big hike the next day. It's a beautiful and easy two-hour return walk that gave us a first impression of the volcanic, beautiful landscape.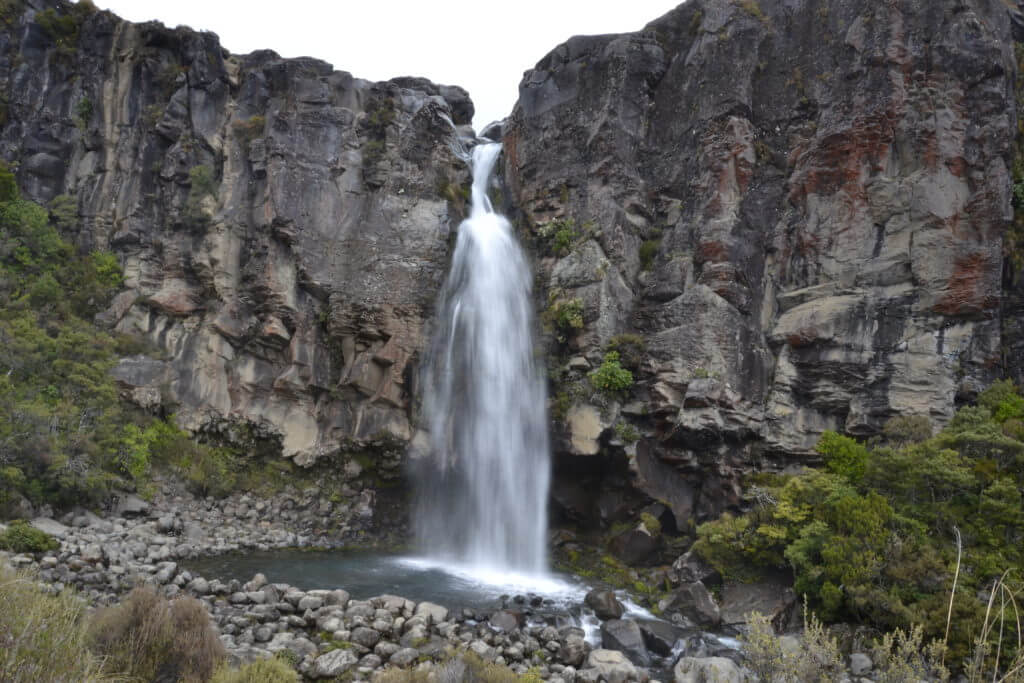 Tongariro Crossing
Apart from the multi-day Great Walk, the Tongariro Alpine Crossing is the famous day hike in this park. A 19.4 km one-way track leading between two mountains, one of them is Mount Doom from the Lord of the Ring movies, past craters, and lakes. For more details about the Tongariro crossing check our detailed article here.
We were very happy that we were prepared for all kind of weather. We started the hike under a cloudy sky; then the climb up to the second main stop, the South Crater, was under the blistering sun, before getting caught in thick fog so we could barely see the Red Crater and the Emerald Lakes. During the first part of the downhill, we had a windy rainstorm and finally, again beautiful sunshine for the last two hours.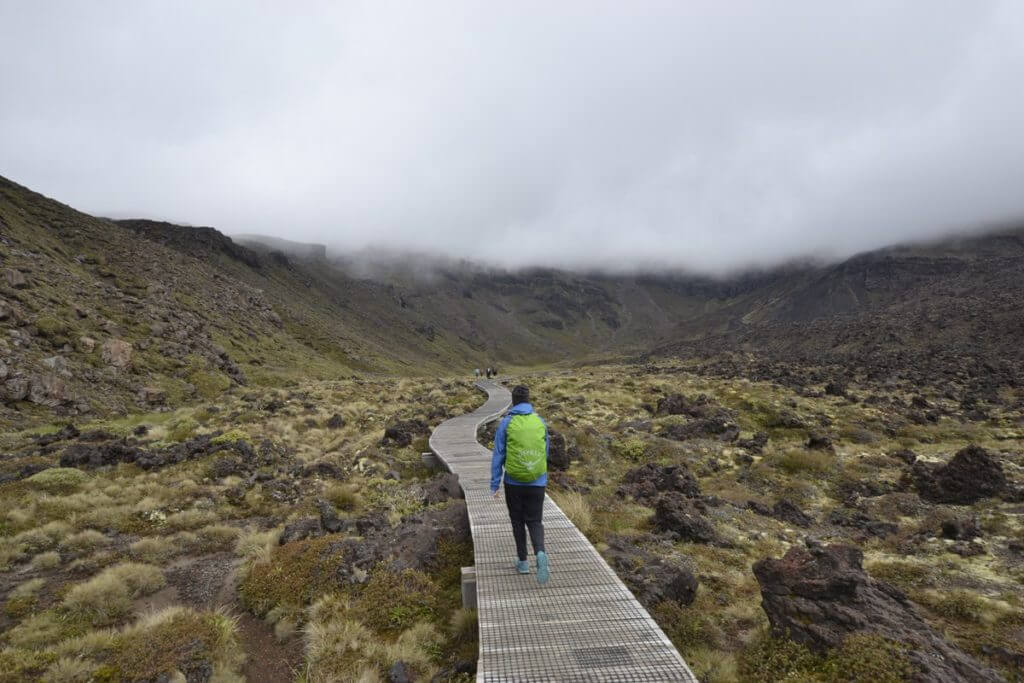 Lake Taupo
After completing the crossing in 6.5 hours we made our way to Lake Taupo, New Zealand's largest lake which sits on top of a volcano. I was really looking forward to a dip in the lake but due to a toxic algae problem, I couldn't. So we just made our way to the free campsite at Reid's farm and were happy that we arrived early because so far it's been the busiest campground in the country.
The next morning we had a lovely breakfast and morning wash in the river before heading to the Huka Falls. From the carpark, it was only a short walk and after the crossing, we didn't feel like a bigger hike so we just snapped some pictures before heading towards our next destination, Rotorua and the Bay of Plenty.