For our final hiking and camping experience on the South Island of New Zealand, we were looking at the options along the Queen Charlotte Track or the Nydia Track. In the end, we didn't do either – the Nydia Track is mostly inland and we were looking for a hike with views over the water. The Queen Charlotte Track we discarded as well because it was too much hassle to get to the track and we would have to spend money on a water taxi or transport by land, and a lot of money. Additionally, we would see similar views on the ferry ride to the North Island.
We followed a recommendation from a local to visit the area of Tennyson inlet and do the 9km Archer Walk between Penzance Bay and Elaine Bay.
Accommodation
On each side of the trail, you find campsites managed by the DOC, both charge 8 NZD per person per night. The area is not very touristy, but very popular with locals and we heard it gets really busy on weekends. We stayed at the Harvey Bay campsite which is about a 15-minute drive from the trail start. Since we came to the area on a Monday we were the only people on the campsite. The campground is very nice, however, it's not directly next to the water so we had to drive 10 minutes to watch the sunset in Duncan Bay.
Our recommendation would be to drive directly to Penzance and walk from there about 2.5 hours to Elaine Bay. Here you have a campsite right on the bay with a jetty you can jump from and cool off after the hike. Alternatively, you should be able to arrange a water taxi that gets you from one bay to the other. In both cases, you can hike back to your car the next day. The view is stunning so make sure you arrive at Elaine Bay for sunset.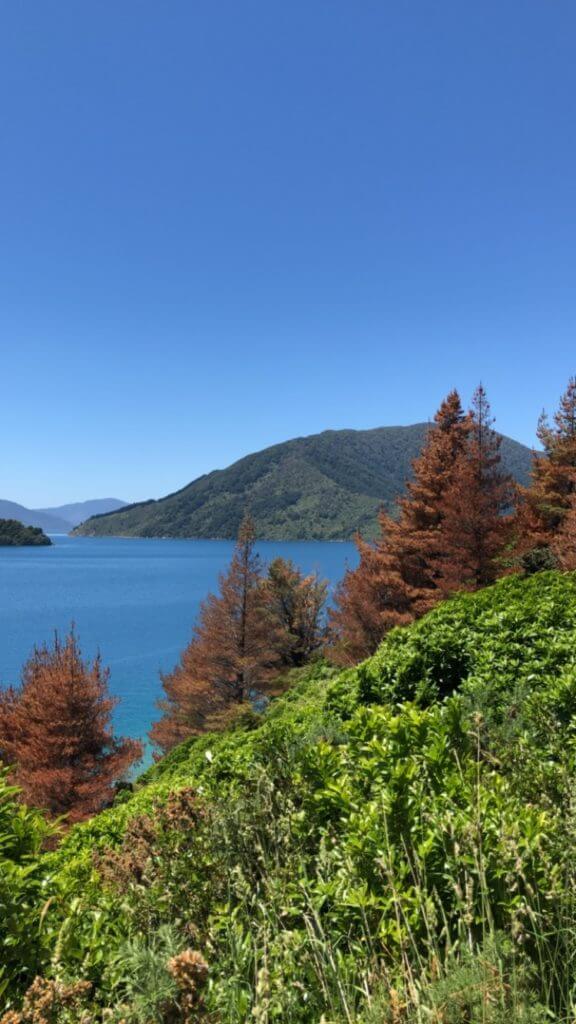 The Archer Track
We were very happy with our decision for this trail. From the very start, the path led us through a beautiful forest with a view over the inlet to our right. About halfway through, we reached a smaller bay with a little hut. Shortly after that, we left the forest and were more exposed to the sun but also had superior views over the water. A highlight was the variety of green, red and silver fern trees. After about 2.5 hours we reached Elaine Bay and were ready for a dip in the cold water and a nice packed lunch.
There are so many beautiful trails in New Zealand and we don't know if you can count the Archer Track as one of the most beautiful ones. For us, it surely was, not alone for the view and the amazing finishing spot in Elaine Bay but for the solitude in the camping and on the trail.