After spending the last week in beautiful nature scenarios, we were very excited to experience some citylife by spending a couple of days in San Francisco. We knew we were back in the hustle and bustle of a city when it took us over 30 minutes to pass the Oakland Bridge into the city to return our rental car. But after that we did not have to worry about our vehicle anymore and could do everything by foot. Everybody tells you that San Francisco is really expensive and it's totally true. Our friend Louise booked us our accommodation near the North Beach district. The Pacific Trade Winds is a really nice choice, it is not a party hostel and you actually get a good sleep.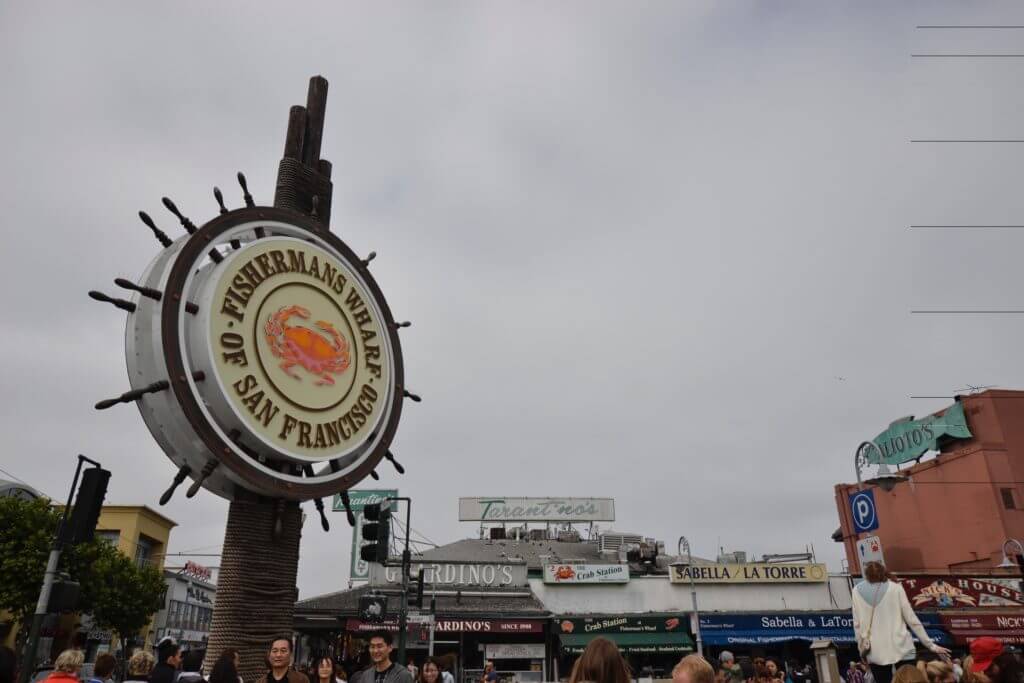 They provide you with big lockers, free peanut butter and jelly sandwiches (our main food source so far on the trip) and is very close to many tourist attractions. However, when we booked the hostel they did not inform us that there is going to be an added tax which made our stay pricier than we thought, but pretty standard for San Francisco. However, the location was totally worth it – China Town and Little Italy were just a couple of blocks away, offering us a wide variety of dinner choices and the famous piers were just a 25-minute walk away.

We arrived at the hostel late on a Saturday night and since we were pretty tired, we managed to just go out for dinner in the North Beach district, one of the favorite areas for tourists and locals alike. San Francisco is a really good travel destination for vegetarians and vegans and we were very pleased by the amazing food options that don't include meat.
Ticking off the main sights
The next morning we started walking through the financial district towards the waterfront with a short stop at the Coit Tower. This detour, even though it involves a steep climb, is highly recommendable. Not only will you be rewarded with a breathtaking view, but you'll also walk through allies full of cute houses and beautifully maintained gardens; not what you would expect in the middle of a busy city. After enjoying the first view over the bay and the Golden Gate Bridge we made our way towards the famous piers. James and Louise made reservations to go explore Alcatraz in the afternoon and we made a quick stop to pick up their tickets. It is probably one of the coolest tours you can take in this city and Ale and I were way too late to get tickets. In case you are planning to go to SF and want to explore the former prison island you should reserve your tickets around one month (or more during high season) in advance on the official Alcatraz website.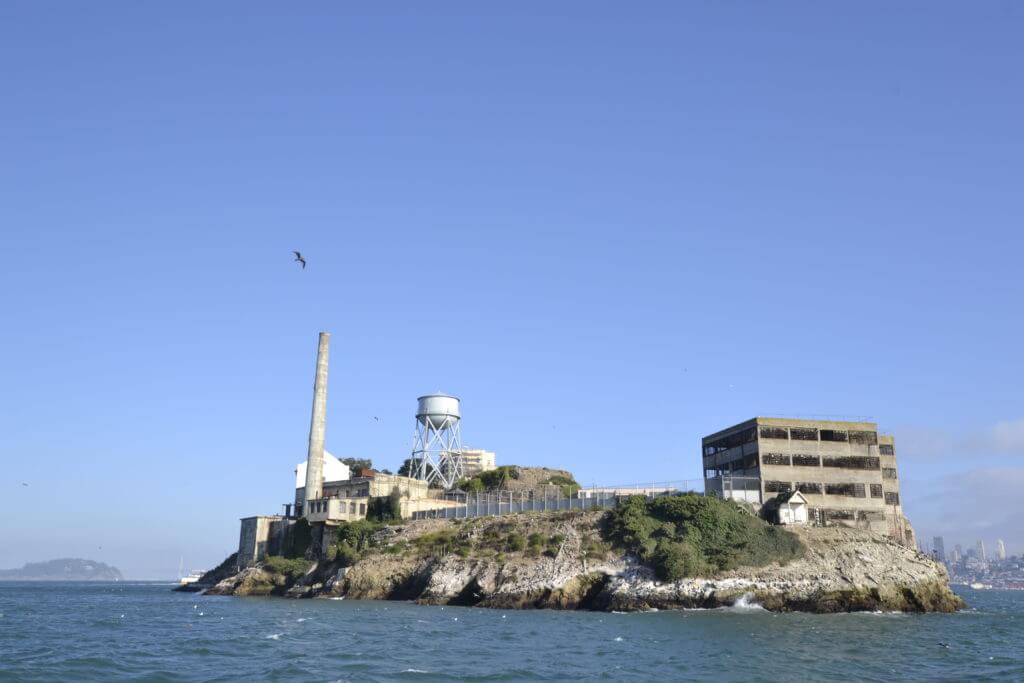 Our next stop on this very touristy day led us to Pier 39 to have a quick look at the famous seals and sea lions and then continued to Fishermans Wharf. In case you like seafood you will have a lot of options to choose from according to your budget. We left the waterfront area to a take a couple of quick pictures of Lombard Street and we then escaped the tourists for a while, had a stroll down some quieter streets before sitting down at the Maritime museum to watch the swimmers training in the bay and enjoyed a very unusual, sunny day. Since we could not get tickets to go to Alcatraz, we decided to get a 15 USD boat ride that takes you under the Golden Gate Bridge and around the prison island. This is a really good option for budget travelers because of its price and the different perspectives you get of these two sights and the view of the San Francisco skyline you get from the boat. We reunited with our friends to enjoy a dinner in a traditional, but very different restaurant, The Stinking Rose. Every dish on the – mainly Italian – menu includes a lot of garlic, their slogan is: "We season our garlic with food".
Cycling across the Golden Gate Bridge
The next day before we left the city to meet up with a friend in Oakland we ticked off the last touristy activity on our list. We rented bikes and went along the shoreline to the Golden Gate Bridge. In case you are visiting San Francisco only for a weekend you can definitely cross the bridge on a bike as well, but be aware that it might be super busy. We did it on a Monday and struggled a bit with the amount of people, but the experience of cycling over the bridge is worth it. If your physical condition allows it, you should cycle a bit extra uphill and enjoy the stunning view over the bridge and the San Francisco skyline from the Marine Headland, but make sure you bring water.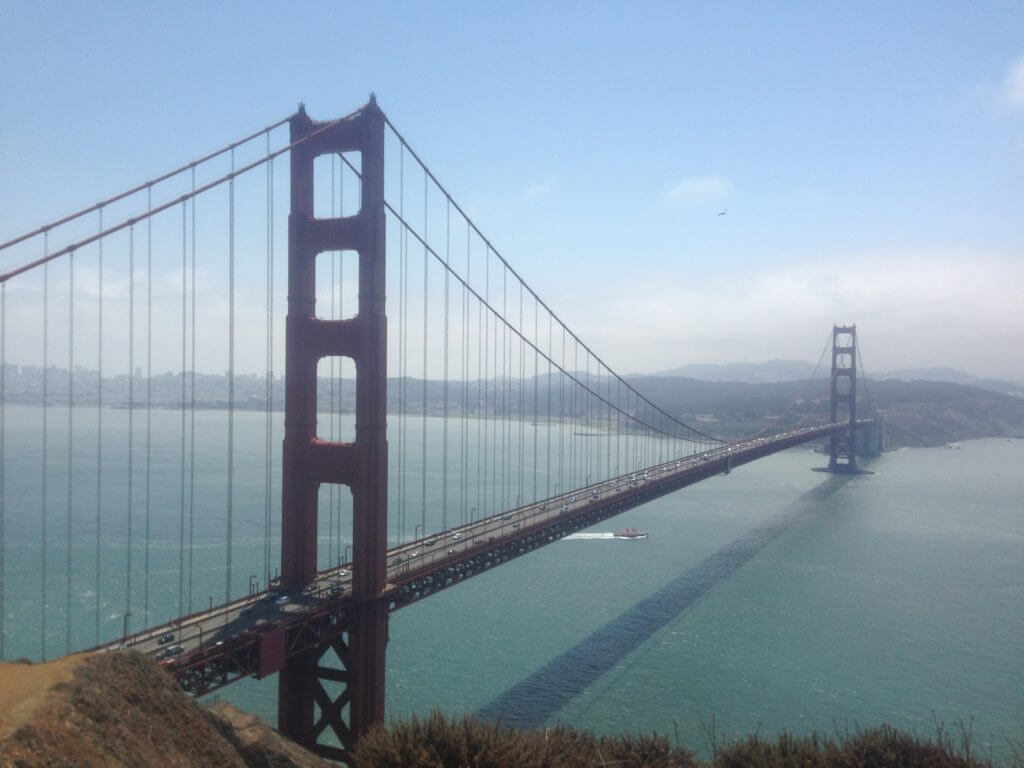 Our last, but not least, highlight was the restaurant our friend from Oakland took us to in Berkeley. Berkeley is known for its big university and our friends told us that the student vibe makes this city a very alternative location, and, to our joy, offers numerous vegetarian and vegan restaurants. Our friends Mike and Osiel took us to a restaurant called Saturn, which has the style of a vintage diner and everything on the menu is vegetarian, vegan or can be made vegan. They mostly offer hamburgers and we were totally impressed by our choices. If you're in San Francisco with a couple of days to spare, consider visiting the lively part of town.
After several days in the busy city, we are really looking forward to going back to nature and are on our way to our next destination, Hawaii. At this point, we had to say goodbye to our travel buddies James and Louise who were exploring more of the California coast before heading back home. Thank you so much for joining us, we had such a blast with you guys.