At the start of our Palawan adventure, we stayed one night in Puerto Princesa. From there we wanted to make our way over Sabang and Port Barton to El Nido, one of the big highlights of the Philippines.
Sabang
The little town, 3 hours away from Puerto Princesa is most famous for its underground river. We arrived around lunch time and wanted to do the tour right away but the host of our accommodation recommended to go the next morning before all the day tours arrive from Puerto Princesa. So we enjoyed the lovely beach for the rest of the day and relaxed.
The next morning we lined up at 7.45 at the ticket office and got on one of the first boats leaving Sabang towards the underground river. This trip turned out to be one of the highlights of our trip to the Philippines. We spent 45 minutes in the huge cave system following the illumination of our boat guide's headlamp. The rock formations and thousands of bats were absolutely amazing. To finish off the tour we saw some monkeys and a massive monitor lizard.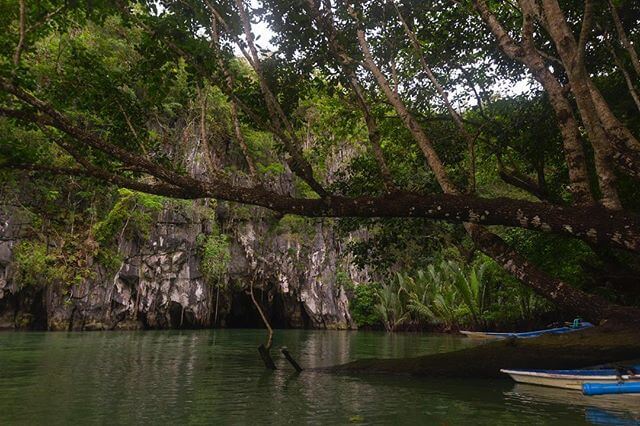 Port Barton
From Sabang, we made our way to Port Barton which was highly recommended by several people we met on the way. The road to get there was not so easy and our van got stuck but luckily there was a 4×4 pickup around to pull us out.
The first night we stayed at Russell's Place in town and after a vegan dinner at Jaried Vege House we had a walk around the night market and had a look at the dance performance of the school kids.
We were really excited to find a vegan-friendly breakfast place and started the next morning with a healthy bowl and a yummy coffee with soy milk. After that, it started to rain so we chilled at our hotel until we hired two motorbike drivers who took us to our next accommodation, the Jungle Bar. Until this day I don't know how we arrived there. After the rain, the road was in horrible condition and we had our big backpacks with us. But we arrived safely and the place was worth the effort. Owned by a French couple they only have two cabins until now but a nice big lounge area. From our cabin, we had an amazing view over the rainforest and the ocean, and we slept without a curtain to wake up to this unobstructed view.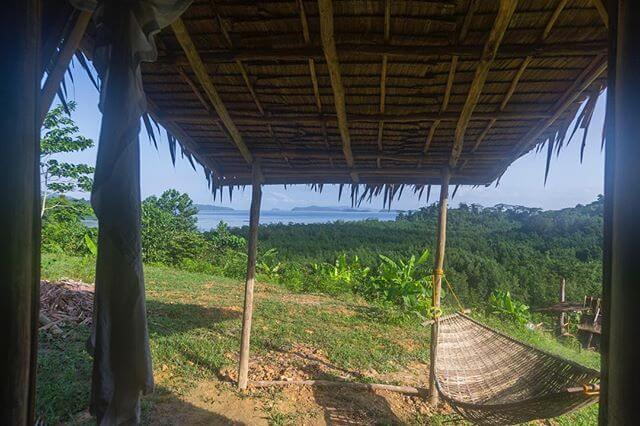 The next day we walked early to White Beach which is one of the nicest beaches we found in the Philippines. If you arrive early you can secure a hammock for you and spend a relaxing day at this beach. We were back at the Jungle Bar just in time before a big rainstorm hit the island. But we enjoyed watching the rain watering the jungle with a beer and some yummy food.