There is no shortage of accommodation options on Siquijor and in the end we decided to try JJ's Backpackers Village for its reviews and for the possibility to pitch our own tent. Here's our review of the place and the vegan meal options.
JJ's Backpacker Village
JJ's offers a selection of different accommodation options so no matter what you are looking for, you will find it. For the solo traveler, you can get a bed in a dorm for 350 PHP, for couples they offer private rooms for 700 PHP. The last option and the one we chose is to pitch a tent on the beach. Not only will you have the best views with this option but also save some money because with 350PHP for two people it is the cheapest option.
Apart from the rooms, JJ's offers free wifi at the reception area. The connection is pretty bad and the road is close to the area so it's also pretty noisy.
There are two bathrooms with toilets and showers plus two individual showers and toilets. Most of the time they were clean except one toilet was pretty disgusting. After we noticed it the first time we told the receptionist but it seemed like they didn't do anything to fix the problem since it was dirty the next day again.
The highlight of the place is the tables directly on the beach so you can enjoy your dinner with the view of the sun setting in the distance. Also, the chilling area was a life saver during the rainy hours.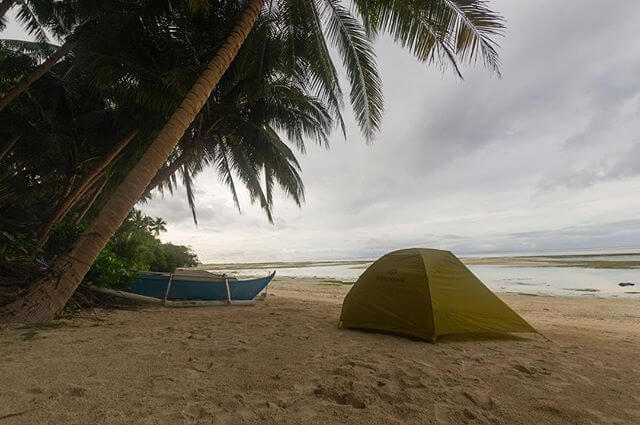 Two things kept our stay from being perfect. The first was that they are expanding the place, so there was always a lot of construction noise. Even on Sunday, the owner decided to saw and hammer when a lot of people were having breakfast. The second thing was the music. Instead of playing nice, chilled beach music they were really into slow remixes of popular songs which were super depressing most of the time. One evening we had enough and played music from our phone. You don't know how important the music is until you listen to the same depressing playlist on repeat.
Vegan Meal Options
This was a big point in favor of JJ's Backpacker Village. They offered about 5 different vegan meals and we tried the stir-fried rice, vegetable noodles, tomato-cucumber-salad and the vegetable curry. We didn't have one bad meal, only one time the food was pretty spicy when we always ordered without spice. The ultimate highlight was the flavorful curry which to the day was one of the best we've had in Asia.