After leaving Lake Te Anau, we began driving to Queenstown where we would spend one night in my cousins' car outside the shared house he lives in.
The drive to Queenstown is worth mentioning just because of a crazy rain and thunderstorm we had on our way. We even had to pull over at one point because the visibility went down to zero. Further along the road, we passed some car accidents and were grateful when we arrived safely in Queenstown.
Queenstown
Once at Vicho's, my cousin, we spent the evening there, getting to know his 10 to 13 housemates, and enjoying some beers.
The next morning, we went into town to have a glimpse of this beautiful, yet very touristy town. Queenstown is surrounded by mountains and is at the shore of Lake Wakatipu so wherever you look, there's a spectacular photo opportunity. We learned that the water here is even cleaner than mineral water!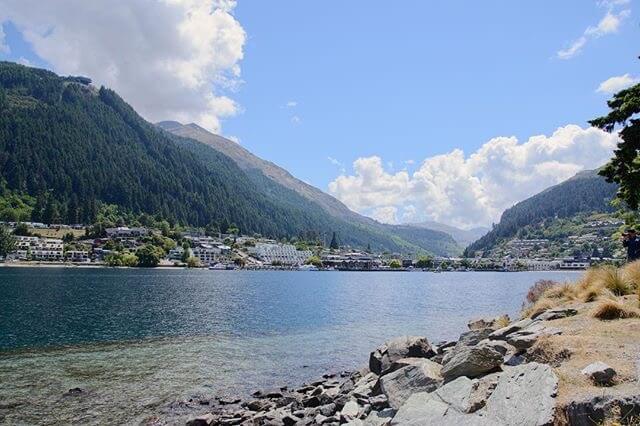 Queenstown is also known as the capital of adrenaline activities: skydiving, bungee jumping, base jumping, you name it! However, we're both very far from being adrenaline junkies and the prices are way over our budget anyways.
We had lunch at Hell Pizza, a restaurant that had vegan cheese as an option and for no extra cost, so we were in heaven! You can read more about this place here.
In the evening we had a walk with Vicho to Jack's Point before we continued our trip to Lake Wanaka. The views up there were spectacular, a full 360 of Lake Wakatipu and its small towns around it. It was the perfect spot to say goodbye to him and for us to leave Queenstown behind.
Wanaka
We began our drive in the evening knowing that it wouldn't be a long one to Wanaka. The drive there, once again, surprised us as it went through mountains the whole way.
Our campsite at Albert Town, 15 minutes away from Wanaka was beautiful, right by the river, and we ended the evening enjoying the colorful sunset.
The next morning was an early one as we had a big hike on the agenda. We were especially excited about Roy's Peak because we had heard so many wonderful comments about it and that the views were like no other.
We began our hike at 8:30 am and from the carpark, you can see the antenna on the peak and you know that it's going to be a long, steep uphill, not to mention that there's no shade.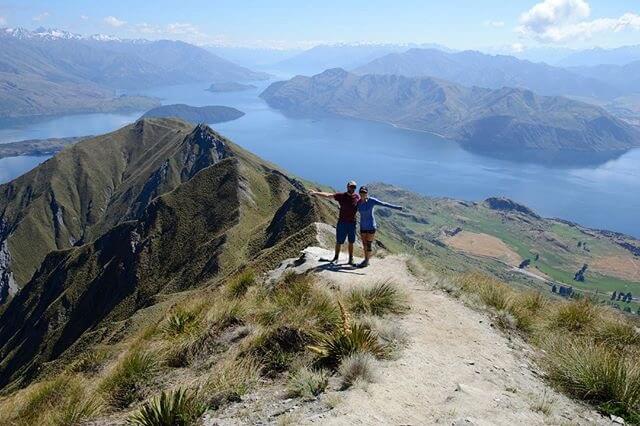 We went up slow and steady and were happy to have made it to the top in 3 hours. The view did not disappoint us. We could see Lake Wanaka in all its majesty, some islands, mountains surrounding it, peaks below us, snow-capped mountains in the back, everything! We enjoyed our packed lunch with this impressive landscape in front of us and then went back down.
After this exhausting morning, we thought we deserved a good break, so we laid out our blanket by the lake and enjoyed the sunshine and the cooling water.
In the evening, we were so happy to have had the chance to meet up with old friends of Chris' back from his fruit-picking time in Australia. Kenny and Carie invited us over to theirs and prepared us a delicious vegan barbecue and some gin and tonics.
The next morning we packed our stuff and went to Lake Wanaka again but this time to do some planning for the next months. We then had a last chilling time by the lake before we were off to our next area in New Zealand, the West Coast.