Our last new country in Southern Africa was Mozambique, where we stayed for a bit more than two weeks. Mainly because I worked part-time as a holiday replacement for my former employer in Chile.
To get from our last destination in Malawi to Vilankulos, our first stop in Mozambique, took us three days of long, cramped bus journeys on roads filled with potholes. The second day was the most tiring one where it took us 11 hours to cover 400 kilometers.
Vilankulos
We were very happy when we finally arrived at our accommodation in Vilankulos, the Compleixo Alemanha. As the name indicates, it is run by a nice German from Frankfurt who offered us a private room for a special, low-season rate. The room and the outside area which functioned as my office had a beautiful view over the bay.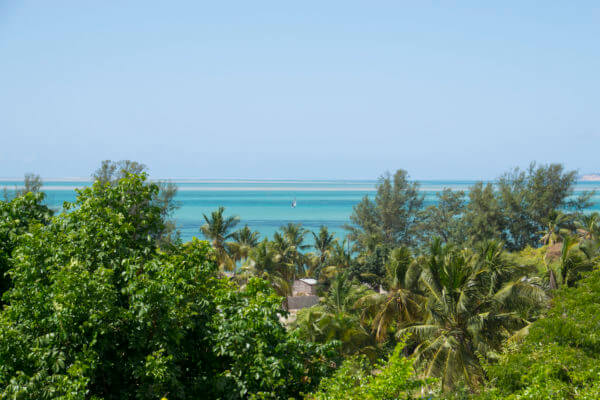 The week wasn't very eventful because we didn't really feel the town and the people weren't the friendliest. We went a couple of times to the beach but struggled to find our perfect spot because the low tide left a muddy area which didn't look very appealing. After 6 days, and especially after the last night where a big party on the beach made it impossible for the entire village to sleep, we were happy to leave the place behind.
Tofo
After not being very impressed with the country so far, Tofo was a complete turnaround. To get there we had to take a big bus, a boat, a tuk-tuk and a minivan, but it was all worth it. We stayed a bit outside of town at the Mozambeat Hotel which has a nice common area and an amazing pool.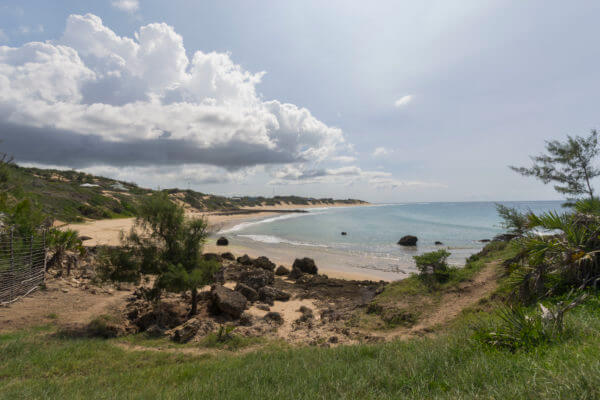 On Sunday we explored right away the beaches and booked an ocean safari for Monday with hopes on finally seeing a whale shark. It was also a special day because it was Ale's birthday and we had amazing plans. Everything started as planned and we left on the ocean safari at about 10.30 am. On the instruction video and also on a lot of clips when you see snorkelers interacting with whale sharks, everything seemed very calm and quiet. That wasn't our experience. When you jump in the water, you have to orientate yourself, know where to go and the swim against the waves whilst getting water in your snorkel and mask.
The first try, when we spotted some dolphins and wanted to swim with them, was very confusing, but after two attempts of swimming with giant stingrays, it got better. Towards the end, we got a bit desperate because we hadn't seen a whale shark, but finally, the crew spotted one. Ale and I jumped in the water and it was right underneath us. This was such a magical moment and we managed to follow this ocean giant for a bit before getting back on the boat.
Unfortunately, after the eventful morning, Ale started to feel sick and we couldn't continue with the birthday celebration. After not feeling better the next day, and having some fever, we decided to see a doctor to make sure she didn't catch malaria. Luckily, we found a doctor in town, and after testing her, he could rule out malaria and gave her some flu medicine. We were very relieved.
The rest of the week we spent mainly at the Mozambeats since Ale had to get better and I had to work in the afternoon.
At least on Saturday, we were able to go back to the beach and walk around. We finished our Tofo experience with a lovely dinner at a Japanese restaurant and could do another cheers for Ale's birthday.