This ancient Inca city was always a dream of ours so we were really excited when we finally had a chance to visit this magical place in April 2017. Built at the height of the Inca empire during the 15th and 16th century approximately 500 meters above the river valley this city consists of more than 600 terraces, 170 buildings, 1000's of steps, 16 fountains and several temples. The most impressive aspect of the place is the quality of the constructions, even now after more than 500 years most buildings are completely intact and show no signs of damage. Especially remarkable is the fact that the Incas did not have any iron tools available, they used rock to carve rock, also the temples are built without any special material to stick the stones together.
After the arrival of the Spanish conquerors, the Incas abandoned the site circa 100 years after its construction and it was lost until Hiram Bingham re-discovered it in 1911. You can read more about Macchu Pichu and the Inca history here.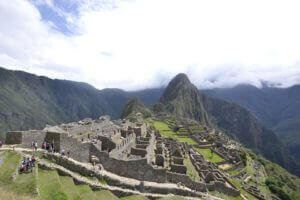 When you want to visit Macchu Pichu you generally start in Cusco, the historic Inca capital existing since the 13th century. It is recommended to spend at least three days here before moving on towards Macchu Pichu to give your body some time to acclimate to the higher altitude.  Cusco is full of ancient buildings, museums, and plazas but one main attraction are the restaurants with their famous pisco sour and excellent food. If you are interested in alcoholic drinks, I highly recommend taking a short pisco sour course at the pisco museum near the main plaza. Apart from the splendid culinary options, there is also a lot to do during the day ranging from arranged tours to the sacred valley to more adventurous activities like quad tours or downhill biking. With so many travel agencies around you, you will have no problem finding your preferred activity. As in any other touristy place, there is also an abundance of sleeping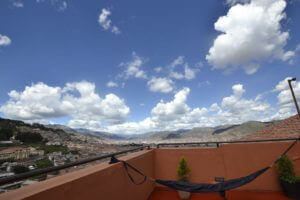 arrangements from high end to cheap hostels. We stayed at the Wild Rover Hostel which offers dorm rooms as well as double rooms with private bathroom and includes a simple breakfast and has its own bar. If you are a young backpacker looking to combine your cultural experience with partying and meeting people I can highly recommend this place, for couples who like it quieter I think you can find an accommodation that will suit you better. However, the views from the terrace of the private rooms over the ancient center of the city are breathtaking.
After spending some days in Cusco normally the travelers begin to make their way towards Macchu Pichu, there used to be a train all the way to Aguas Calientes from where you take a bus to visit the ancient city but now a part of the track is closed so you have to arrange a transfer to the small town of Ollantaytambo. From there you can take a train to several little towns with destination Aguas Calientes. It is highly recommended that you book your train in advance since in high season there is a lot of demand. The operators of trains are Perurail or Incarail. More adventurous travellers can do the 4 day, 3 night jungle hike along the Inka Trail and arrive directly at Macchu Pichu.
Aguas Calientes was the most disappointing place where we stayed during our trip, it is always loud due to the arriving and departing trains from 5 am in the morning to 10 pm at night. Also, we did not find the same standard of restaurants as in Cusco, most places offer anything from Peruvian dishes to pizza, don't even bother trying Pisco Sour here. There are, however, higher end hotels which probably offer better accommodations and dining options.
As an alternative you can stay in Ollantaytambo which is a way nicer place and take the first train in the morning, go up Macchu Pichu and take a train back and not stay in Aguas Calientes. Bus services to go up start at 5.30 am and it is recommended to be there at 5 because with the first train arriving early there is always a big queue. However, if you are in good physical shape it's worth it to save the cost of the bus and do the 1 to 1.5 hour hike up to the entrance. But keep in mind if you also purchased tickets to climb the Huayna Picchu it is another 45 to 60 minutes steep uphill. For this mountain, there are only two times a day when you can do the climb up with a limit of 200 tickets each. Also in high season the tickets to enter Macchu Pichu are sold out in advance so make sure you secure yours before arranging your trip, you can buy your tickets here. With the limited number of people that can visit Huyana Picchu, it is definitely worth the pain to go up, enjoying the breathtaking views without a very large crowd. Also, we invested a bit in a private tour guide for the main park, it would be a shame to visit this magnificent site and not understand the history.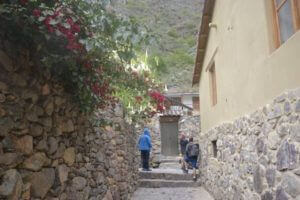 After Macchu Pichu, I would also recommend staying a night in Ollantaytambo, a cute little town that has also a smaller Inca Town. It also costs an entry fee so we decided to skip it after seeing Macchu Pichu the day before. There is a really nice part where it's all pedestrian alleys and cute houses and the restaurants here are also of a much higher quality.