In the shadow of El Nido, Port Barton on Palawan Island in the Philippines is busy but still doesn't host as many tourists as other destinations. There are plenty of hotels around, but we recommend everyone to stay at the Jungle Bar which is not that convenient to reach but worth the extra effort to get there.
How to reach the Jungle Bar
There are three ways to reach the Jungle Bar. The first is to take a boat from the port to White Beach and from there walk 1 km to your accomodation. The boat driver charges 100 PHP per person.
The alternative is to hire a motorbike with driver who will get you there by a dirt road. When it has been raining it is quite a challenging drive, but also an experience. With 200PHP per bike this is the more expensive option but doesn't require any walking. The third option is to walk all the way from Port Barton but it'll probably take you a couple of hours and the road isn't very good, especially after rain.
The Jungle Bar
The main space of the bar is a larger ground floor with plenty of tables and the bar. The owners Sand and Domingo from France were traveling and just stayed when they found this lot for sale. They are super friendly and make you feel welcome right away. Go up the steps to the first floor to enjoy the best views of the rainforest and the ocean.
The food here is also really good but sometimes it takes a while. Especially in the early afternoon when the bar is busy by the day visitors from White Beach. Especially the 5 tapas for 550 PHP is worth a try. Sand and Domingo were also really happy accommodating our vegan diet. Apart from the food you can also get the usual Philippino beer or rum and coke.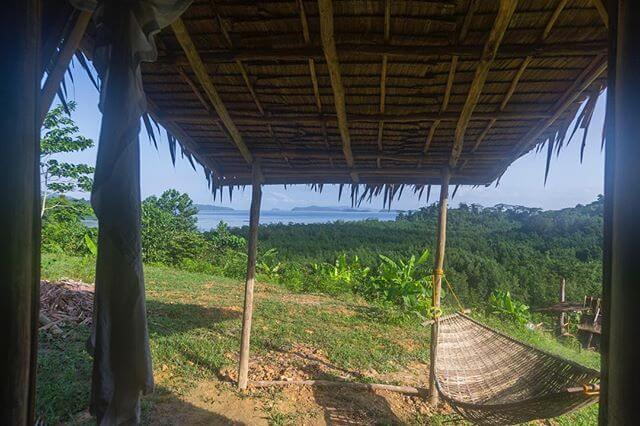 The Cabins
When we stayed the Jungle Bar only had two cabins and a third in construction. To get there you have to walk up a little path that can be slippery after some rain. Hopefully, Domingo will create a little stairway soon.
We had the top cabin which had a mattress with mosquito net, a hammock, and two chairs. This is basically all we needed since we spent most of our time in the main area.
The real uniqueness of the Jungle Bar is the view from your cabin. You can leave the curtains open and wake up with a breathtaking view over the ocean in the distance and the rainforest.