Our second and last destination in Indonesia was Gili Air, the Gili island whis is a bit less touristy than Gili Trawagan but with more buzz than Gili Meno. However, the first couple of days we didn't really feel that this island is very special.
Yoga lessons, relaxing and enjoying good, cheap food
After arriving with the boat, we first had to find a place to stay since we hadn't booked in advance. After checking some places by walking in and having a look we decided to stay at Susans Bungalows in the north of Gili Air. Here, the location is not so important because the island is so small that you can walk the whole place within a couple of hours. The bungalows turned out really nice, with comfy beds, air conditioning, and an amazing pool.
We right away checked out the yoga options and booked two classes at the H2O Yoga which were really enjoyable.
The first days we thought we would hang out on the beaches in the north and west which were closest to our accommodation, but we didn't find them great and there was no snorkeling so we spent more time at the pool than the beach. But we always came back to the west side for the best sunset views.
The highlights in these first days were the cheap restaurants we found. The Ada Warung served us amazing local food and Firda Warung satisfied our craving for Western food.
Gili Air's redemption on the East Coast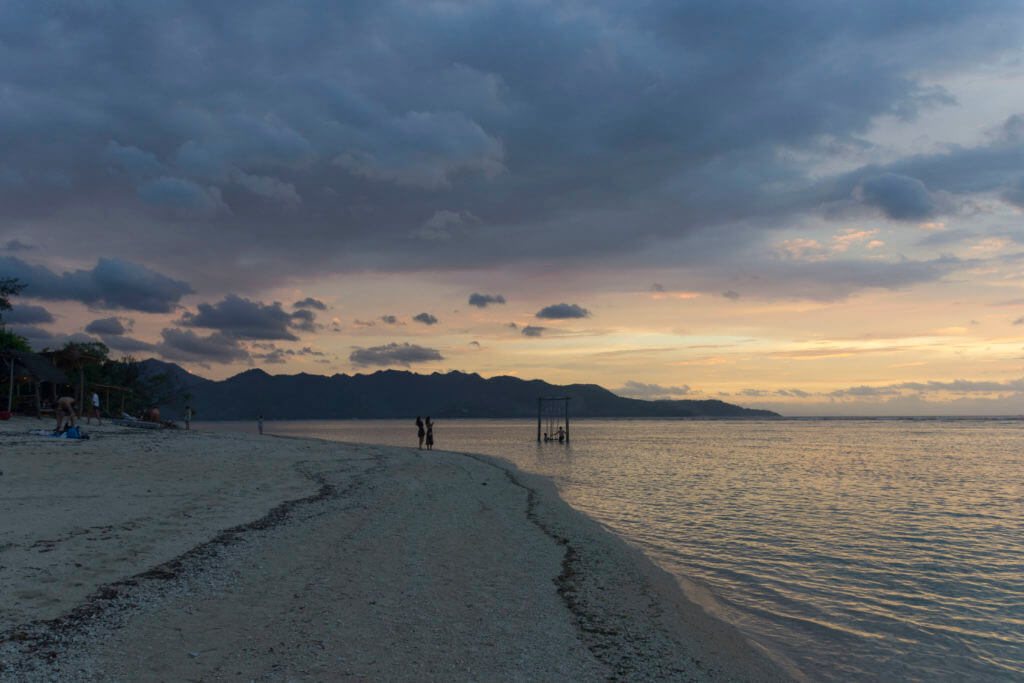 On our last days we made it to the east side of Gili Air and here we finally found nicer beaches and good snorkel opportunities.
On our last day, we started in the south end of the Eastcoast and snorkeled and walked our way up to the North island end. Ale had again problems with her mask and couldn't join me on the last snorkel where I finally spotted a turtle and could watch it for a while all by myself. With this experience we left the island towards Singapore and Ale finally ended up giving up on her mask and donated it to Susan's bungalows.