One of the destinations we were most excited about on our trip was New Zealand. But the trip didn't start very smoothly after a major travel fail at Christchurch airport.
After our plane was delayed, we landed at 1.30 am in Christchurch. We wanted to check our rental car company but we couldn't find any voucher or confirmation email. Having used a different platform this time and not having any emails at all during the booking period we weren't really sure what to do and afraid that we got scammed. Finally, after manually checking my entire search history we found the voucher but it was so late by then that we just slept at the airport.
Christchurch Airport to Dunedin
We pretty much left out Christchurch because we are going to spend our last days here and went straight towards Dunedin where we were planning to meet up with my cousin Caro, her husband Kuno and their son.
On the way there we had a nice drive through the beautiful town of Oamaru and had a look out for penguins on the beach. Unfortunately, we only saw a sea lion lying around and a seal jumping through the waves.
Our next stop was the Moeraki Boulders, North of Dunedin. Moeraki was one of the first European settlements on the island and is now home to these amazing rocks in the water.
Dunedin
In Dunedin, we were greeted by my cousin and family with beer and a meal ready to be eaten.
The next morning after being entertained by their son Matiu, we all walked into the city for some sightseeing. We really enjoyed the stroll past St. Paul's Cathedral, several alleys with street art towards the Octagon, the central square of Dunedin. On our way to the vintage railway station, we discovered "Potpourri – The Vegetarian Cafe" which also offered some vegan options. We were not super hungry so we tried their signature date scone and some coffee. After this delicious refuelling stop, we continued our walk past the railway station to the university and the big clock next to the river.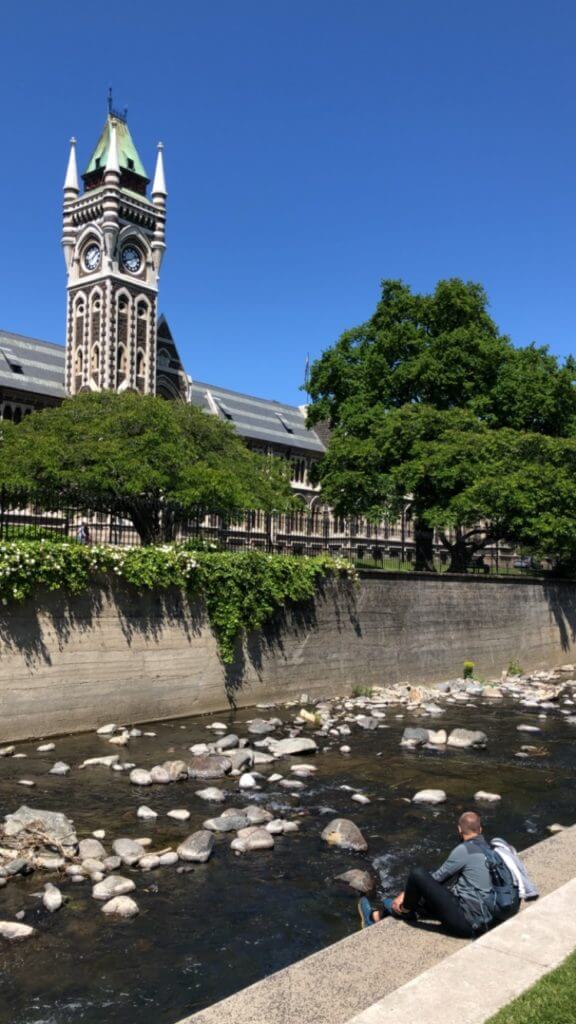 After walking back towards the centre we had lunch at the "Let Them Eat Vegan" bistro. This small restaurant offers daily dishes as well as plant-based meat and cheese to take home. We had a tasty ham, egg, potato pie and a turkey and cheese sandwich. It was so good and the owners super friendly so we had a 20-minute chat with Tanya who runs the restaurant and her husband.
To finish the day we went to Aramoana Beach. This is a closer and cheaper alternative to the Otago Peninsula which can be seen across the water. We were really lucky because after walking two minutes along the pier we spotted a Yellow Eyed Penguin. There was no one around so we had a little photo session before continuing our walk to the end of the path. We also spotted some sea lions on the rocks along the way. The rest of the evening we spent with Caro and Kuno having some drinks.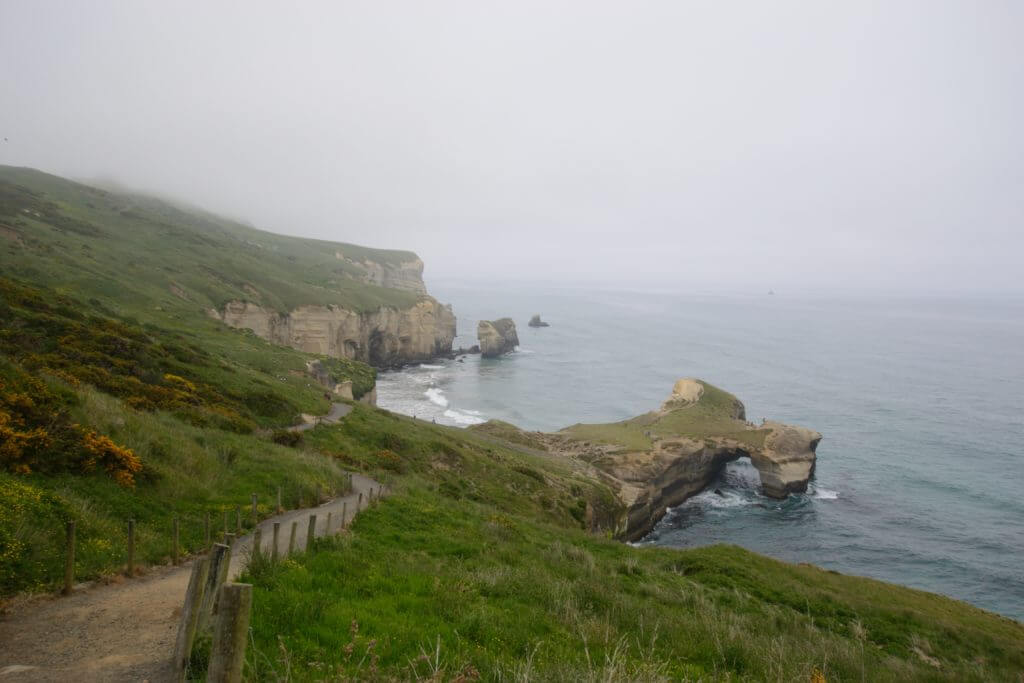 Tunnel Beach
The next morning we had to say goodbye to my cousin and family and made our way South towards The Catlins. Our last stop around Dunedin was Tunnel Beach, a spot we recommend 100% to anyone in the area. You walk down for about 30 minutes and have an amazing view of this little peninsula with its arch for the most part of the way. It is possible to play around on the grassy rock as well as descending via a tunnel to the beautiful beach with its rock formations.