After visiting the Okavango Delta we kept moving north towards the Chobe National Park just South of the border with Namibia, Zambia, and Zimbabwe. To get there we had to take an 8-hour overnight bus, that randomly stopped at checkpoints to inspect our luggage and couldn't drive super fast because of the wildlife. We even saw an elephant standing next to the road.
Cruising on Chobe River
We arrived ridiculously early in Kasane, the gateway to the Chobe National Park. We were surprised by the reasonable camping prices of the luxurious Chobe Safari Lodge so we decided to stay here. We had to wait quite a while to set up our tents, and together with Geoff, our new travel buddy from Vancouver, we just chilled in the lounge with wifi. We found soy milk at the supermarket so we could at least order some yummy coffee. After setting up camp and relaxing by the pool for a bit we were off for our afternoon river cruise.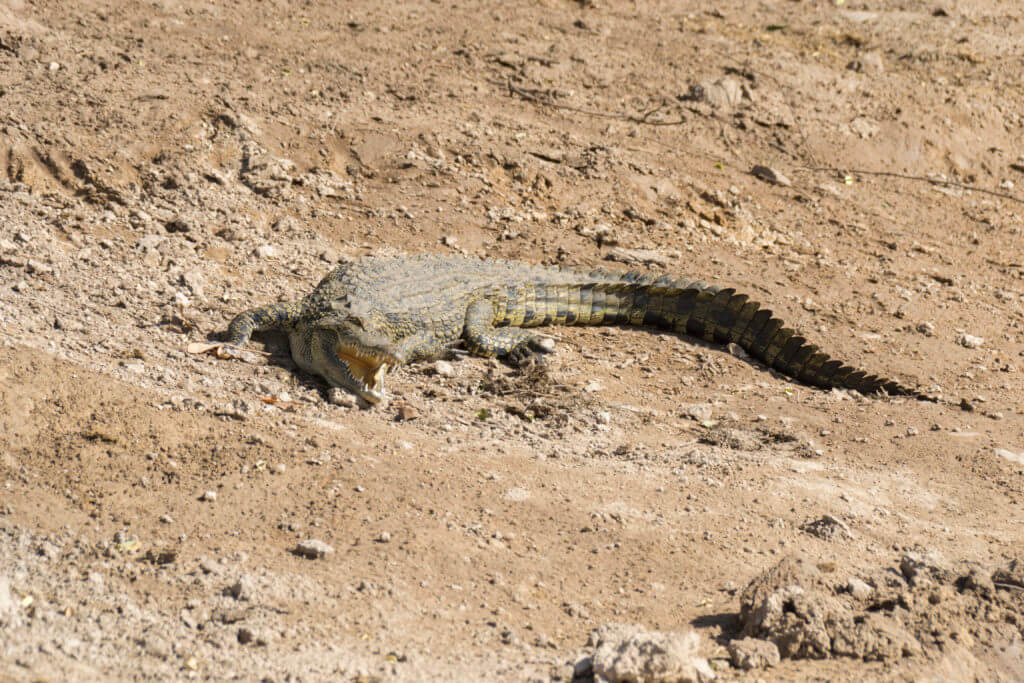 It didn't take long for us to get overwhelmed when we saw some kudus next to the river in dangerous distance to two juvenile crocodiles. Afterwards, it just got better when we watched a large group of hippos lazying in the water. When you see them yawn and see the size of their jaw you are not surprised that they can split a boat or even a crocodile in two.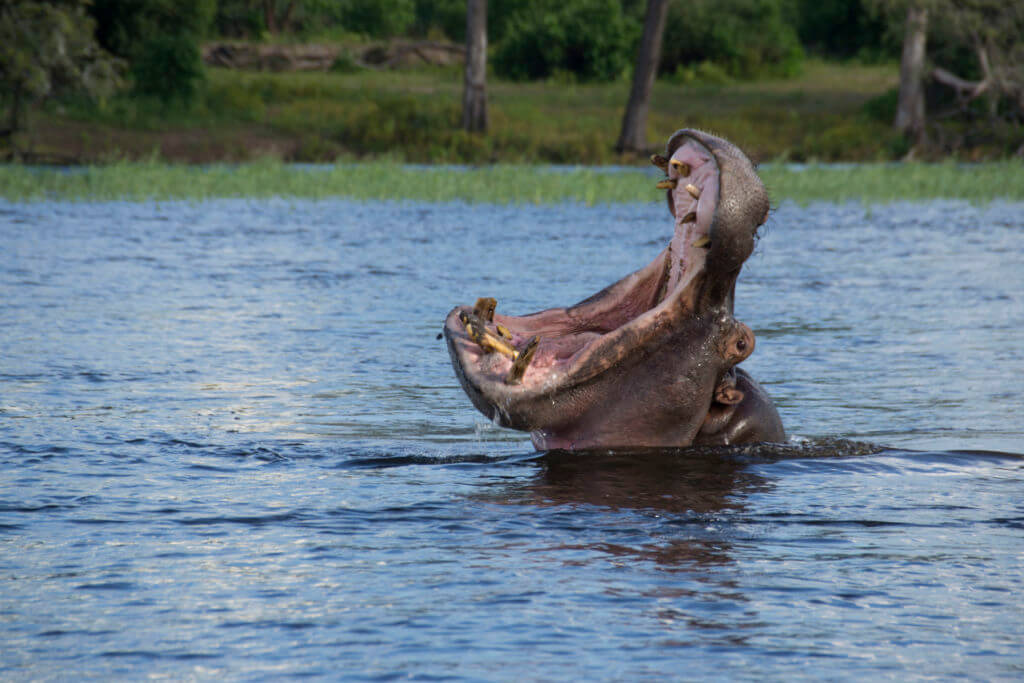 For us, the main reason why we wanted to go to Chobe was the elephants. Apart from the one we saw in Etosha we weren't really lucky in finding them. So we were really excited when we saw two young brothers playing and wrestling in the water about twenty meters from our boat. This was the main highlight of the cruise and after that, we saw more hippos, another crocodile and a lot of birds.
Spotting big cats during our game drive in the Chobe National Park
After the river cruise, we were not sure if we should go on a game drive the next day. Oti, our guide, said that on these safaris they look for big cats but he can't promise anything. We decided to go since we were in the area and got picked up at 5.45 am the next morning.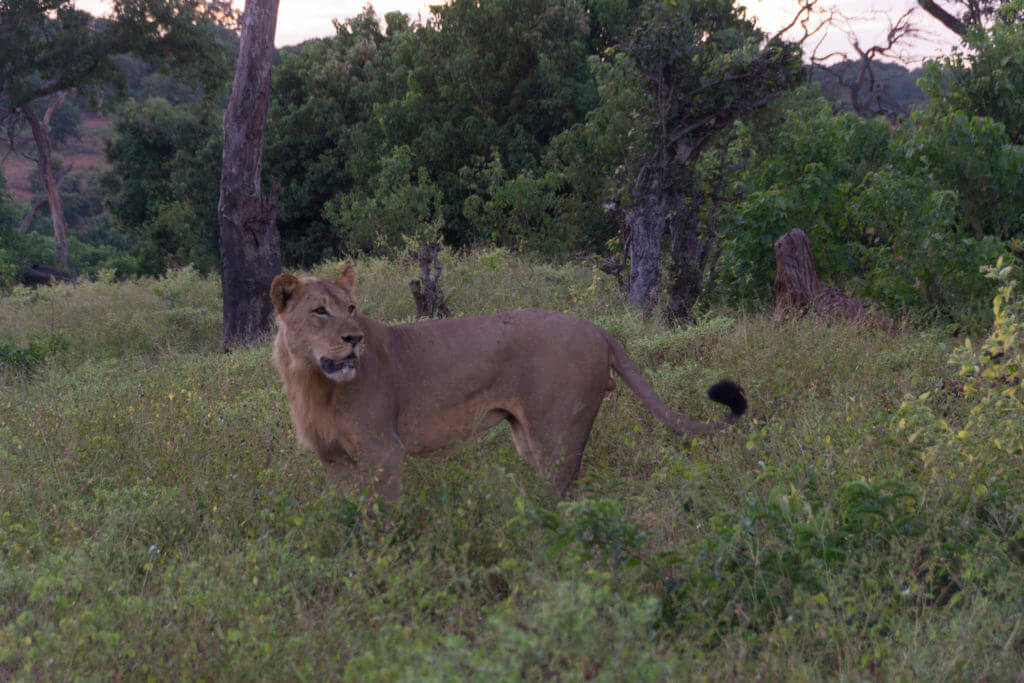 It didn't take long for the next big highlight of our trip. We were driving along the Chobe River when we saw some hippos storming into the water. Seconds later we saw the reason for the commotion: two lions were crossing the road and continued to roam alongside it. So we turned around and followed them until they crossed the road again and disappeared in the bushes.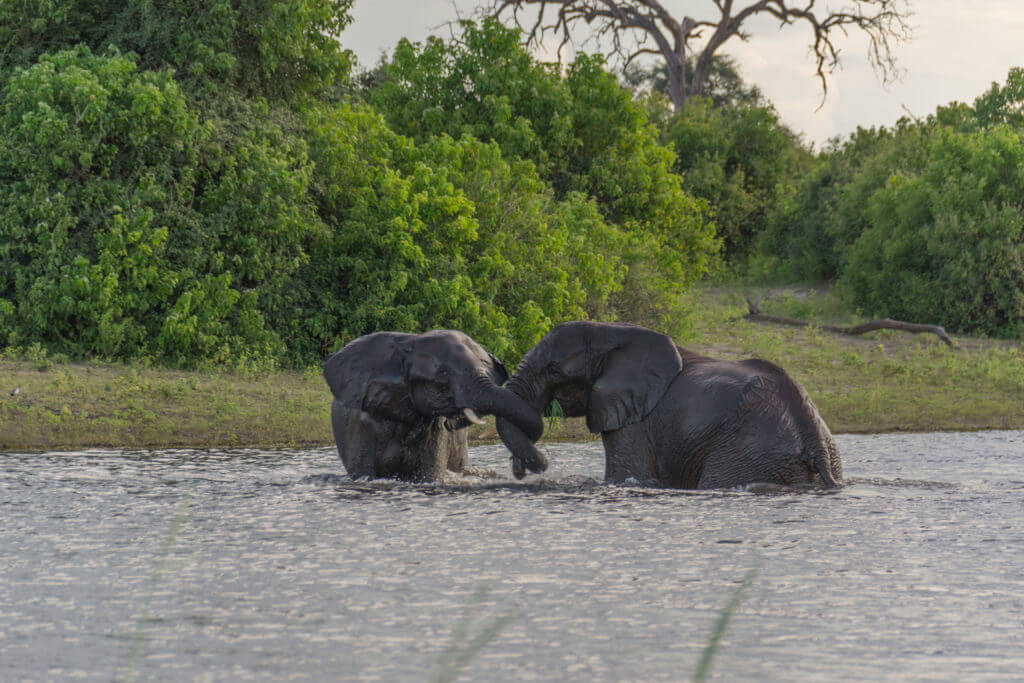 We were really lucky to get so close to them, and we even thought they would hunt because the area was full of impalas, but they weren't in hunting mode. The craziest part was to hear the baboons barking and yelling which is their way to warn their friends, the impalas that there are lions so they can have time to run away, which many of them did.
There were only two more cars at the right place, at the right time, which allowed us to appreciate this moment even more.
The rest of the game drive was also very enjoyable. We spotted several bird species, antelopes, crocodiles, a jackal and some giraffes. But the image that will stick in our memories for a long time was the majestic lions walking around.