We were very excited to finally have made it to the Philippines after we had to call off the first attempt due to my ankle injury. Since we are not fans of cities we avoided Manila and flew straight to Cebu, the "laid back" version of the capital.
Cebu
After arriving from chilled Byron Bay, Cebu was way too busy for us. We spent two nights here basically just to get our last vaccine shots. Apart from that, we had a look at some sights like Magellan's Cross and Fort San Pedro. As always, we tried some vegan restaurants and went to Healthy U where they offer a vegan menu for about 1 USD and in the evening, we had two amazing dishes at the Lunhaw Vegan Cafe.
Bohol
After these two days in the city, we were happy to board the ferry to Bohol. Upon arrival, we took a typical tricycle to a hotel where you can also pitch a tent. However, we realized how far away from the beach the place was and decided to continue to Alona Beach. After some research on the internet, we found a decent hotel, even though it was a bit pricier than we hoped for. For dinner, we wanted to check the Shaka, the only 100% vegan restaurant but were quickly scared away by the costs of the main dish. We found the Irene Restaurant where we shared a lovely vegan noodle dish.
Chocolate Hills and Tarsier Conservation
The next day we planned to rent a scooter to visit one of the main sights of Bohol, the Chocolate Hills. But the weather wasn't on our side so we thought it would be safer to take a tricycle to avoid getting soaked and slippery roads. After two hours cramped in the little vehicle we arrived and it was all worth the effort. The Chocolate Hills are a group of hills that get their name from the brown colour in summer and they are something really unique. The whole area has a special tranquillity feeling to it.
On the way back we wanted to stop at a Tarsier Sanctuary. There is one on the road to the Chocolate Hills but we read some comments about the unethical treatment of the animals so we chose the other alternative. After our driver spent every break trying to glue tape his tire it finally blew up about 5 kilometers before the sanctuary. Luckily, we were in a small town where he could fix the bike and we could hitch a ride to make it to our destination before closing time. We saw five of the tiny primates with their big eyes. Fun fact: It is the only animal that can rotate his head 360 degrees and commits suicide when stressed. For dinner, we were happy to have found the Naty & Henry Eatery with a buffet where we could choose some cooked veggies with rice and two vegetable barbecue sticks.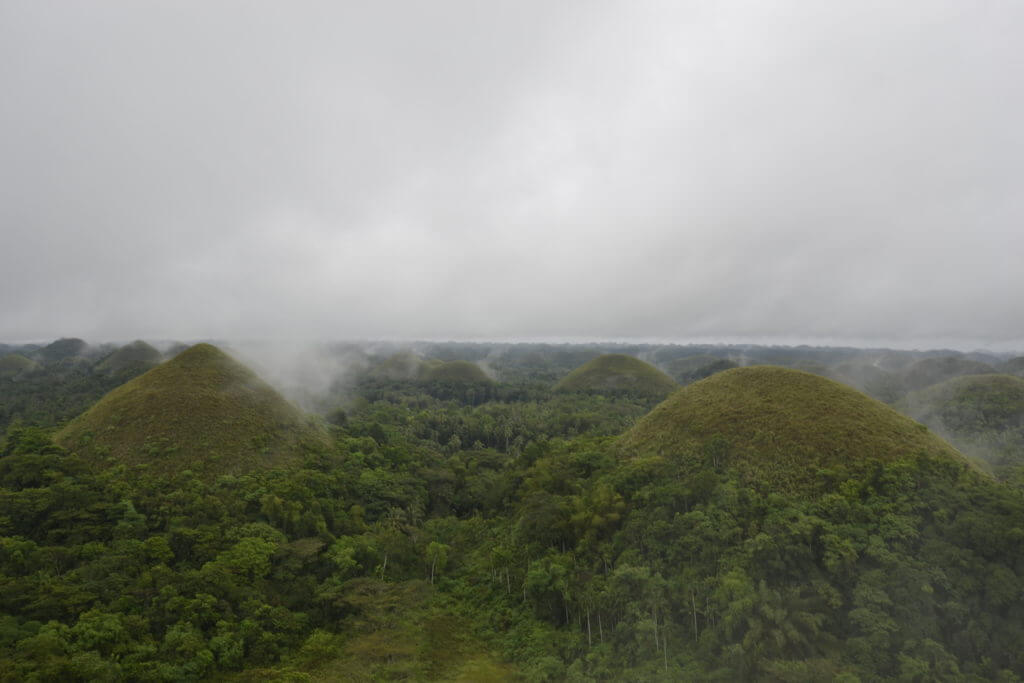 Snorkeling and Island Hopping
For the next day, we booked an island hopping trip. After wading to our boat, we set off to first to spot some dolphins. This was not the most enjoyable part of the day, as soon as a school of dolphins was spotted, 10 boats with extremely loud engines rushed towards them and the animals disappeared. We were glad to leave the area to leave the dolphins in peace.
Next, we stopped at an island where we took a smaller boat to a snorkeling spot. We saw an amazing abundance of underwater life. There were a lot of people at the same time but the area was quite large so it was still a nice experience.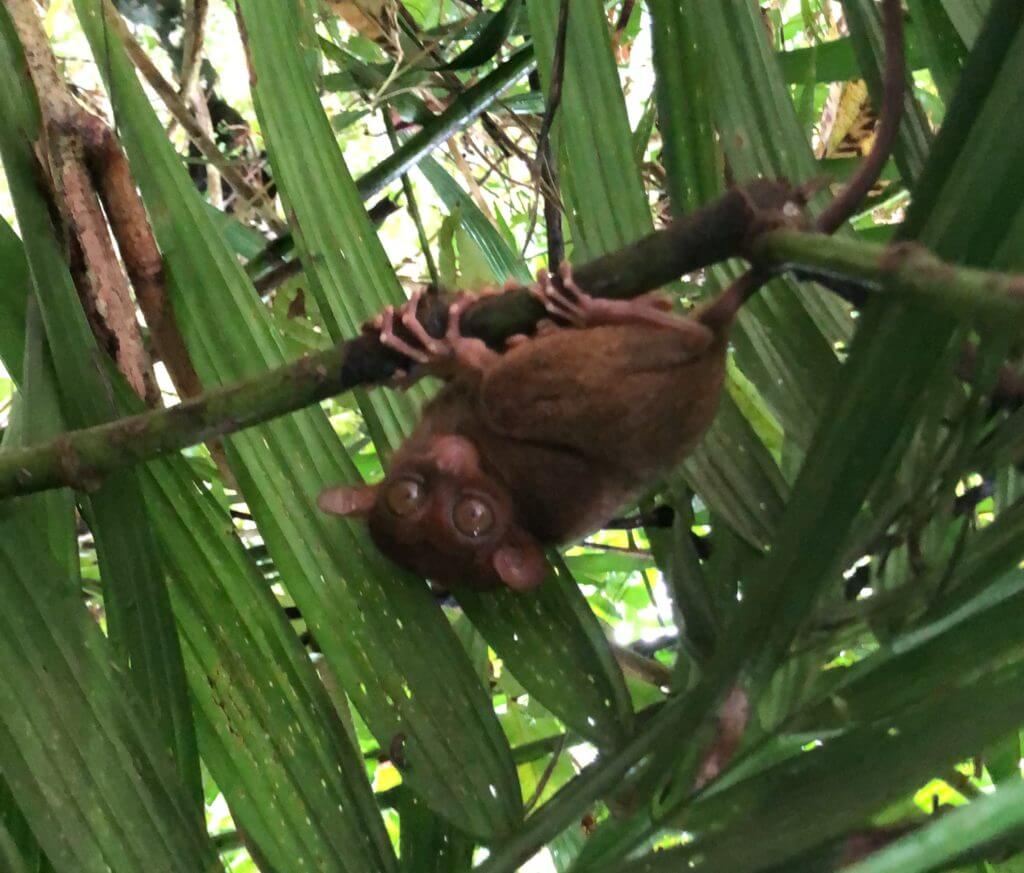 The second snorkel spot, where we went to spot some turtles, was even more impressive. There were only a few people and our group saw the first turtle after a couple of minutes. Within the next half hour, we saw at least another five of these creatures before exiting the water to start heading back to the mainland. By then it had started to rain again and we spent a miserable, wet and cold couple of hours getting back to shore. We had planned to rent a scooter to see some other beaches and do a cave swimming but couldn't do any of that with so much rain. So we spent the rest of our time relaxing in the room and had dinner at Guinit Bar where they served us a yummy vegetable curry and another exquisite vegetable dish. Before heading back to the hotel we had a happy hour cocktail at a beach bar which probably was one of the worst cocktails we've ever had, but it was nice to sit outside for a bit and enjoy the waterfront.