One of the highlights of a trip to Vietnam is a boat tour to world famous Halong Bay. We were really sceptical because of how popular the limestone islands are and the prices suggested in the lonelyplanet. The most common tour recommended is a 2D1N trip and that one should expect poor quality when booking something for less than 130 USD. Because 260 USD was way over our budget we looked for alternatives and found Cat Ba Island. Here´s our trip and why we think that Cat Ba is a better choice than taking a tour from Hanoi.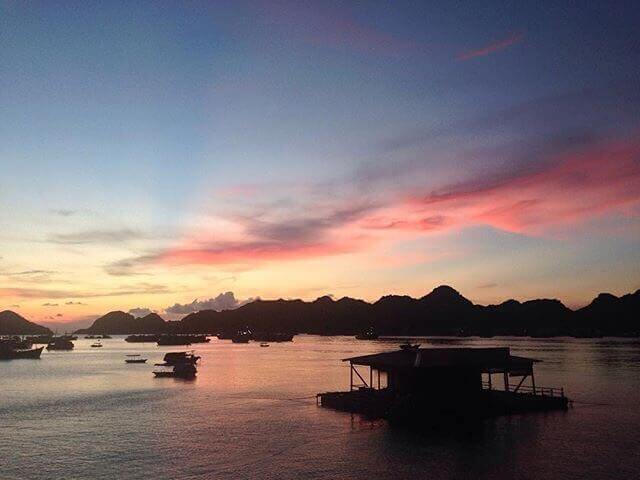 Transport to Cat Ba Island
It is very easy and fast to get to Cat Ba. We went with the company "Cat Ba Express". They offer several buses, the earliest leaves at around 7.30 and picks you up at your hostel. After around 3.5 hours on a bus, a ferry and another bus we were dropped off at our hotel. This trip cost us 21 USD per person and was very well arranged.
Accommodation, Food and Drinks
The prices in Cat Ba do not differ much from the rest of Vietnam. We found a decent hotel for 10 USD a night. Unfortunately there was a construction site right next to it so we won't recommend it here. We mostly ate at the Yummy restaurant for its variety in vegan options. Per meal we paid between 1.5 and 2 USD. We found the cheapest drinks at the Oasis bar during their amazing happy hour from 4 pm until 2am. If you are really tight with your money you can still get a beer for 50 cents.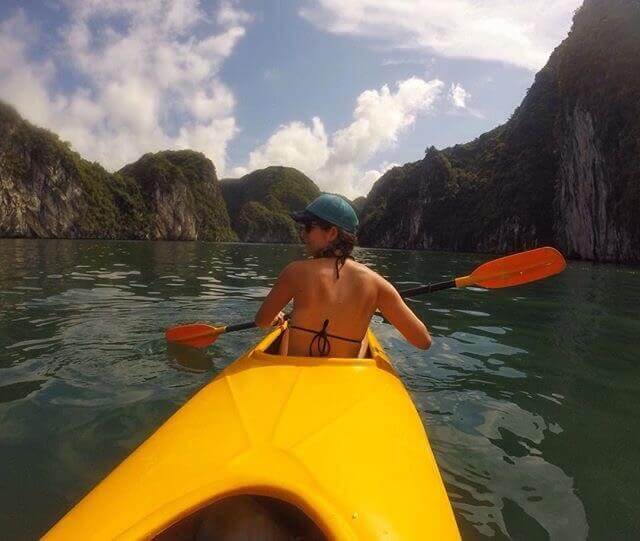 Halong Bay and Lan Ha Bay
As mentioned above, the main reason to visit Cat Ba is the boat tour to Halong Bay. We took a day tour for 21 USD per person which included lunch, the visit to the two bays, snorkelling, a visit to a fish farm (although we didn't get off at this stop) and 2 hours of kayaking through caves and bays where you can see monkeys in the trees. Optional you can stay a night on a fish farm but it sounded like a waste of money and for us vegans, not very appealing. All in all we were 100% happy with our tour and can highly recommend Cat Ba Visions.
More things to do
The great advantage of choosing Cat Ba as base for the Halong Bay tour is the other activities you can do on the island. There are three beaches within walking distance from the town. They are connected via a well maintained boardwalk which offers stunning views of the surrounding limestone islands. The first two beaches are not really worth a visit because they are occupied by resorts, but the last one is great for relaxing.
As in every place in Vietnam, Cat Ba is also great for renting a scooter and exploring on your own. A popular destination is Cannon Fort.
If you like hiking, the Cat Ba National Park has several trails to offer. Choose the distance you are comfortable with, go on your own or book a guided tour.