We arrived in Paihia just in time for sunset by the beach which was a perfect first impression of the beautiful bay surrounded by -just as its name says- islands.
Bay of Islands
Our traveling is very focused on staying within our budget so we can keep on traveling for a long time. However, there are places where you just know you have to give in and pay those extra dollars for a different and unique experience, at least for us.
In this case, we knew that the best way to explore the Bay of Islands was on a boat (besides a helicopter or scenic plane ride, which is way more than just some "extra" dollars). So we booked a sailing boat tour which departed at 10 am from Paihia and navigated through the bay, anchoring at Stingray Cove where we spend a couple of hours.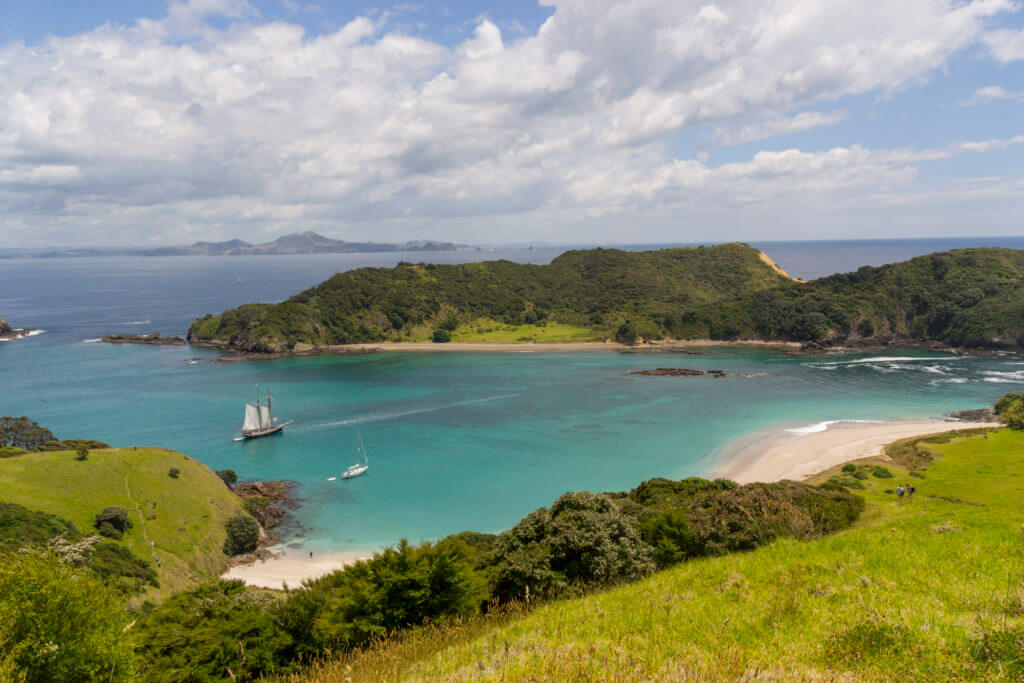 We jumped in the water, thinking it would be an enjoyable swim to the beach, but we actually had to get to the beach as quickly as possible since the water was very very cold but it was still fun! Once at the beach, we took the kayaks for a little paddle along the cove, finalizing our break of "adventures", as our captain called it, we did a little hike to have better views of the coast. This trail was amazing, on one side we had a view of the beach where we anchored which had nothing to envy from any Caribbean beach (except for the temperature of the water of course), and on the other side there was a wild, rugged coast full of big rocks and waves, which as amazing as it looked, didn't look very inviting.
After this hike, we met up with the rest of the passengers for a refreshing lunch, followed by an amazing sailing experience back to Paihia.
We decided to spend another night here since we were tired after not staying in one place for more than a night since 2 weeks and enjoyed a relaxed evening playing cards and watching the sunset from our campsite.
The next morning we had a quick stop at Haruru Falls, and to be honest, weren't immensely impressed, so we took a couple of shots and went on to Opua Forest where there was a lookout over Paihia after a 30-minute hike – making this our 7th day in a row where we've done some sort of trek/hike.
Whangarei Bay
Our last stop before flying from Auckland to Christchurch would be Whangarei, a bay just 2.5 hours North of Auckland.
We were so lucky to find one of the best campsites we've stayed at so far and couldn't believe it was free! However, when we arrived at the campsite, it was very windy and not really enjoyable outdoor weather, so we went to another beach nearby which was more sheltered but happy to know that we had a beautiful campground to go back to in the evening.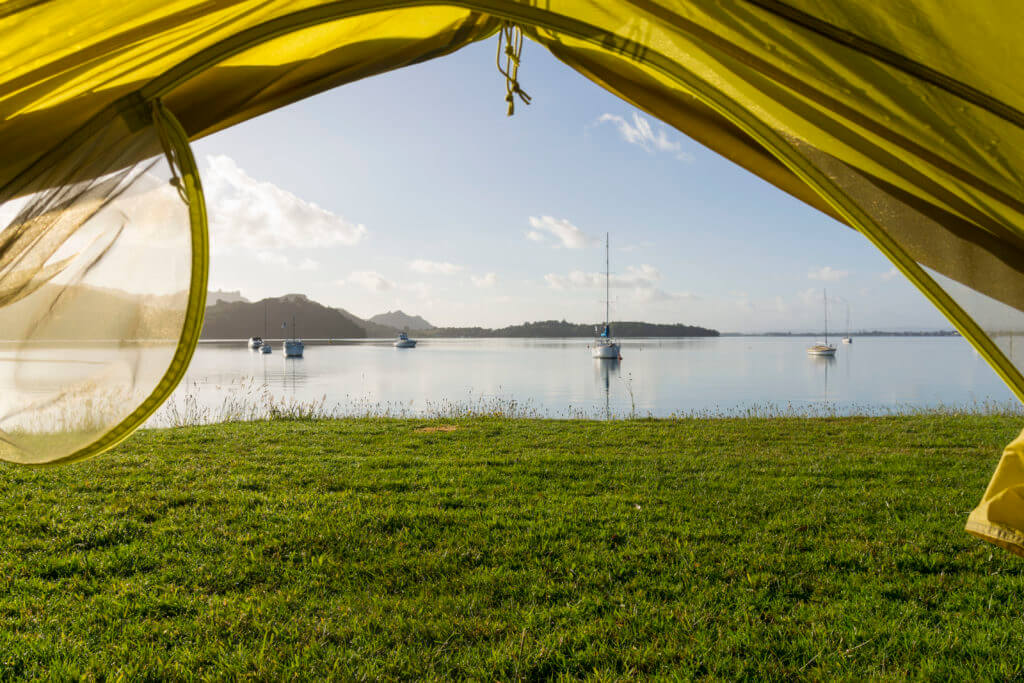 At the beach, we enjoyed a luxurious sandwich with avocado and then spent some time making a birthday message and the video for my Dad's birthday the next day.
When we drove back to our campsite, the wind had calmed and we couldn't believe what a beautiful evening awaited us, with another amazing sunset we could enjoy directly from our backyard.
The next day it was time to fly to Christchurch to spend our last days in New Zealand. We started the morning with a jump in the water, which was surprisingly warm! We swam a bit and officially began our morning routine: breakfast, washing up, take-down tent, pack, and drive.